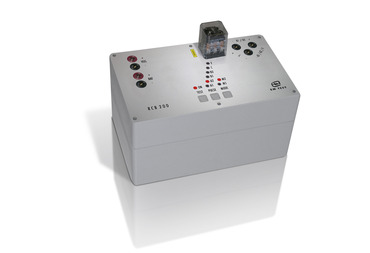 Lưu ý: Tham khảo ý kiến của nhân viên INO sẽ giúp bạn tiết kiệm được thời gian và chi phí khi cần mua sắm. ​​Với sự tư vấn của chúng tôi, bạn sẽ không gặp khó khăn khi tìm hiểu về đặc tính của sản phẩm cần mua.
As per Ford ES-XW7T-1A278-AC, Annex G, Figs. G-1/G-2
Pulses CI 220: Pulses A1, A2, B1, B2 and C
Pulse CI 260: Pulse F
Strictly using components as per Ford requirements
Fixed repetition times and pseudo-random timing
Automatic control of mode and switch settings by micro-controller
Easy control by manual operation
Application
RCB 200 – Generation of relay switching transients
This RCB 200 relay switch box has been designed by EM TEST to offer a high-quality solution for customers testing according to ES-XW7T-1A278-AC Ford specification.
Three function keys permit to operate the unit, to select the test pulses and test modes.
– TEST allows to start and to stop the test
– PULSE allows to select the pulse
– MODE allows to select the mode for Pulse A1, A2, B1, B2 and C
LEDs indicated the selected pulse and mode.
Benefits
Micro-processor controlled RCB 200 ensures easy operation
With its 6 different pulses and two different modes to sequence these test pulses the RCB 200 is easily operated by only three function keys. A micro-controller automatically sets the circuit required to generate the selected pulse in the predifined mode (fixed mode with specified repetition and duty cycle (pulses A1, A2, B1 and B2) or random (pulse C)).
The RCB 200 can also be used for tests as per CI 260F.
Resource & Download
Lưu ý: Nếu một thiết bị nào đó không được liệt kê ở đây, điều đó không có nghĩa rằng chúng tôi không hỗ trợ được bạn về thiết bị đó.
Hãy liên hệ với chúng tôi
 để biết danh sách đầy đủ về thiết bị mà chúng tôi có thể hỗ trợ và cung cấp.
INO: Bán, Báo giá, tư vấn mua sắm và cung cấp, tư vấn sản phẩm thay thế; tương đương, hướng dẫn sử dụng, giá…VNĐ, …USD info@ino.com.vn | Tel: (+84) 028 73000184 | EMTEST-Transient Immunity Test Generator as per FORD ES-XW7T-1A278-AC (Model:RCB 200).