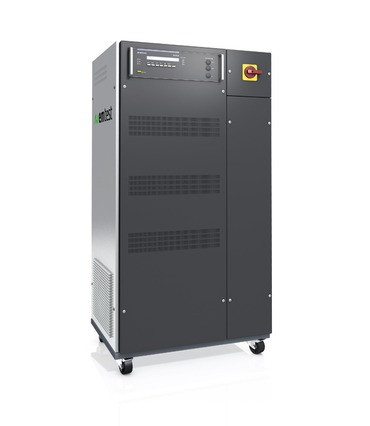 Lưu ý: Tham khảo ý kiến của nhân viên INO sẽ giúp bạn tiết kiệm được thời gian và chi phí khi cần mua sắm. ​​Với sự tư vấn của chúng tôi, bạn sẽ không gặp khó khăn khi tìm hiểu về đặc tính của sản phẩm cần mua.
Highlights
Wide Power Bandwidth; DC – 5kHz
Output Power up to 90,000VA AC / 108,000W DC
Output Voltage up to 3*360V AC (p-n), +/-500V DC
High Inrush Current Capability
Power-recovery up to nominal power (optional)
Built-in Arbitrary Waveform Generator
Standard Test Routines for IEC/EN requirements as well as for Aircraft and MIL-STD testing
Multiple Interfaces
Application
NetWave – Simulation of the most required power supply phenomenon
The NetWave Series (3-phase) are three-phase AC/DC power source, specifically designed to meet the requirements as per the standards IEC/EN 61000-4-13, -4-14, -4-27(*) and -4-28. It is also used as a DC power source to cover the requirements as per the standards IEC/EN 61000-4-17 (Ripple on DC) and IEC/EN 61000-4-29 for voltage dips and interruptions on DC supplies. The NetWave series is well suited for testing inverters (e.g. solar power, wind power) and e-vehicles. Additionally, the NetWave series (3-phase) offers the necessary capabilities for avionics testing as per DO-160, Airbus ABD0100 and Boeing as well as per MIL-STD-704.
Optionally the NetWave 3-phase series can be equipped with a power-recovery module to absorb fed-back power (AC/DC) up to nominal power of the NetWave. (*) pre-compliant
Benefits
NetWave – The powerful multitalent for AC and DC supply simulation
The programmable 3-phase AC/DC power sources with their wide frequency bandwidth offer powerful waveform generation capabilities for various test applications in the EMC area and for avionics testing. Based on a Dual-Processor technology, with an integrated high-performance PC, a digital signal processor (DSP) and equipped with a hard disk the NetWave Series is capable to generate and record waveforms in realtime.
According to standard requirements a pure sinusoidal voltage is needed for harmonics and flicker measurements. The output voltage of the NetWave Series is therefore guaranteed to have a very low distortion (THD) of less than 0.1% regardless of the load. No matter whether waveforms are programmed of segments or of single points (normally resulting in MBs of data) the NetWave will do. Interfaces like GPIB and Ethernet are common features with the NetWave Series.
Resource & Download
Lưu ý: Nếu một thiết bị nào đó không được liệt kê ở đây, điều đó không có nghĩa rằng chúng tôi không hỗ trợ được bạn về thiết bị đó.
Hãy liên hệ với chúng tôi
 để biết danh sách đầy đủ về thiết bị mà chúng tôi có thể hỗ trợ và cung cấp.
INO: Bán, Báo giá, tư vấn mua sắm và cung cấp, tư vấn sản phẩm thay thế; tương đương, hướng dẫn sử dụng, giá…VNĐ, …USD info@ino.com.vn | Tel: (+84) 028 73000184 | EMTEST-Three-phase Multifunctional AC/DC Power Sources (Model: EFT 500NS).