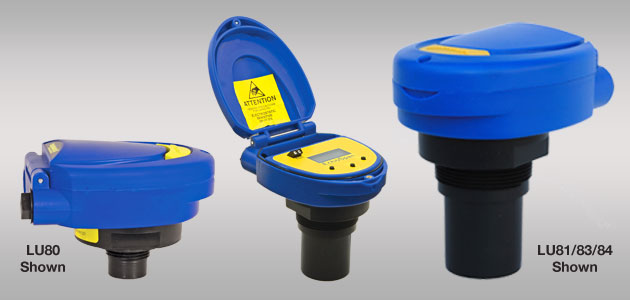 Lưu ý: Tham khảo ý kiến của nhân viên INO sẽ giúp bạn tiết kiệm được thời gian và chi phí khi cần mua sắm. ​​Với sự tư vấn của chúng tôi, bạn sẽ không gặp khó khăn khi tìm hiểu về đặc tính của sản phẩm cần mua.
Application:
The general purpose ultrasonic level transmitter provides continuous level measurement up to 32.8' (10m) with a 4-20 mA signal output, and is configured via its integral push button display module. This non-contact liquid level sensor is ideally suited for corrosive, ultrapure, sticky or dirty liquids, and is broadly selected for bulk storage, day tank, lift station and process tank level applications.
Features:
Offered in 4 measurement ranges from 9.8' (3m) to 32.8' (10m)
Configuration is simple via integral push button display module
LCD display indicates level in inches, centimeters and percentages
Narrow 2" or 3" beam width for applications with limited measurement space
Fail-safe intelligence and diagnostic feedback for simple troubleshooting
PVDF transducer and NEMA 4X polycarbonate enclosure for corrosive liquids
Automatic temperature compensation for accurate measurement
Specifications:
Range: LU80: 4" to 9.8' (10cm to 3m)
LU81: 8" to 18.0' (20cm to 5.5m)
LU83: 8" to 26.2' (20cm to 8m)
LU84: 12" to 32.8' (30cm to 10m)
Accuracy: ± 0.2% of range
Resolution: LU80: 0.019" (0.5mm)
LU81/83: 0.039" (1mm)
LU84: 0.078" (2mm)
Dead band: LU80: 4" (10cm)
LU81/83: 8" (20cm)
LU84: 12" (30cm)
Beam width: LU80: 2" (5cm)
LU81/83/84: 3" (7.6cm)
Configuration: Push button
Memory: Non-volatile
Display type: LCD, 6-digit
Display units: Inch, cm and percent
Supply voltage: 12-28 VDC
Loop resist.: 500 Ohms @ 24 VDC
Signal output: 4-20 mA, two-wire
Signal invert: 4-20 mA, 20-4 mA
Signal fail-safe: 4mA, 20mA, 21mA, 22mA
or hold last
Process temp.: F: -4° to 140°
C: -20° to 60°
Temp. comp.: Automatic
Ambient temp.: F: -31° to 140°
C: -35° to 60°
Pressure: MWP = 30 psi (2 bar)
Enclosure rating: NEMA 4X (IP65)
Encl. material: Polycarbonate
Encl. hardware: Brass & stainless
Enclosure vent: Water tight membrane
Conduit entrance: Dual, 1/2" NPT
Trans. material: PVDF
Process mount: LU80: 1" NPT (1" G)
LU81/83/84: 2" NPT (2" G)
Mount gasket: Viton®
Classification: General purpose
Compliance: CE, RoHS
Resource & Download
Lưu ý: Nếu một thiết bị nào đó không được liệt kê ở đây, điều đó không có nghĩa rằng chúng tôi không hỗ trợ được bạn về thiết bị đó.
Hãy liên hệ với chúng tôi
 để biết danh sách đầy đủ về thiết bị mà chúng tôi có thể hỗ trợ và cung cấp.
INO: Bán, Báo giá, tư vấn mua sắm và cung cấp, tư vấn sản phẩm thay thế; tương đương, hướng dẫn sử dụng, giá…VNĐ, …USD info@ino.com.vn | Tel: (+84) 028 73000184 | Flowline-EchoSpan® Ultrasonic Level Transmitter ( Model: LU80-84 ).