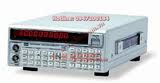 Lưu ý: Tham khảo ý kiến của nhân viên INO sẽ giúp bạn tiết kiệm được thời gian và chi phí khi cần mua sắm. ​​Với sự tư vấn của chúng tôi, bạn sẽ không gặp khó khăn khi tìm hiểu về đặc tính của sản phẩm cần mua.
The SFG-830 Series 30MHz Arbitrary Function Generator is one of the most versatile and highly qualitative signal generators utilizing DDS techniques. They not only offer the standard generator functions but also provide accurate modulations, sweep, and arbitrary waveform generation. The free editing software allows professional users to obtain, edit, or create frequency and amplitude characteristics as desired through RS-232C interface or GPIB interface (SFG-830G). The SFG-830 Series is suited to simulate all signals encountered including both ideal and abnormal conditions. For applications, such as product design, manufacturing testing, automotive, and sensor stimulation, the SFG-830 Series is the best solution provider for generating arbitrary waveforms.
*30MHz Direct Digital Synthesizer(DDS)technique
*20mHz Frequency Resolution
*±10ppm Frequency Accuracy
*12 Bit, 5M Sample/S Arbitrary Waveforms
*Internally Synthesized FM, AM and Phase Modulation (PSK)
*Linear and Log Sweeps
*Arbitrary Modulation
*Standard Interface: RS-232C
*GPIB Interface (SFG-830G)
Resource & Download
Lưu ý: Nếu một thiết bị nào đó không được liệt kê ở đây, điều đó không có nghĩa rằng chúng tôi không hỗ trợ được bạn về thiết bị đó.
Hãy liên hệ với chúng tôi
 để biết danh sách đầy đủ về thiết bị mà chúng tôi có thể hỗ trợ và cung cấp.
INO: Bán, Báo giá, tư vấn mua sắm và cung cấp, tư vấn sản phẩm thay thế; tương đương, hướng dẫn sử dụng, giá…VNĐ, …USD info@ino.com.vn | Tel: (+84) 028 73000184 | Good Will / Instek, Synthesized Function Generator (SFG-830).