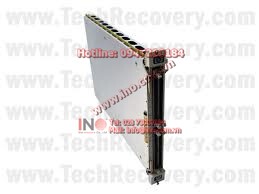 Lưu ý: Tham khảo ý kiến của nhân viên INO sẽ giúp bạn tiết kiệm được thời gian và chi phí khi cần mua sắm. ​​Với sự tư vấn của chúng tôi, bạn sẽ không gặp khó khăn khi tìm hiểu về đặc tính của sản phẩm cần mua.
The Agilent E1458A 96-Channel Digital Input/Output module is a C-size, 1-slot, register-based VXI module that offers twelve 8-bit bi-directional data ports. It provides block memory transfers and six GPIO handshake protocols (none, leading edge, trailing edge, pulse, partial, and strobe) for a wide range of applications.
Functionally similar to the E1330B, the E1458A is intended for digital I/O control applications such as digital subassembly test or data acquisition and control. Each of the 12 identical ports consists of eight data lines and six handshake/control lines.
Each 8-bit port is individually configured for positive/negative true logic and read/write or tri-state condition. The E1458A is arranged into three banks of four ports each. Ports can be combined within a bank, allowing data transmission using bytes, words (16-bit), or long words (32-bit). Data transmission can be from a single port (8-bits) or from multiple ports up to all 12 ports.
1-Slot, C-size, register based

Twelve 8-bit input or output data ports for acquisition

Wide variety of output data types

Data port readback on a per-port basis

Control of interface driver tri-state capability

Block mode transfer to/from memory
Resource & Download
Lưu ý: Nếu một thiết bị nào đó không được liệt kê ở đây, điều đó không có nghĩa rằng chúng tôi không hỗ trợ được bạn về thiết bị đó.
Hãy liên hệ với chúng tôi
 để biết danh sách đầy đủ về thiết bị mà chúng tôi có thể hỗ trợ và cung cấp.
INO: Bán, Báo giá, tư vấn mua sắm và cung cấp, tư vấn sản phẩm thay thế; tương đương, hướng dẫn sử dụng, giá…VNĐ, …USD info@ino.com.vn | Tel: (+84) 028 73000184 | Hewlett-Packard / Agilent Technologies, 96-Channel Digital I/O (E1458A).