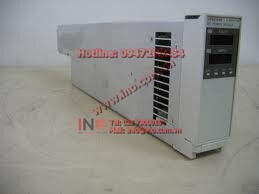 Lưu ý: Tham khảo ý kiến của nhân viên INO sẽ giúp bạn tiết kiệm được thời gian và chi phí khi cần mua sắm. ​​Với sự tư vấn của chúng tôi, bạn sẽ không gặp khó khăn khi tìm hiểu về đặc tính của sản phẩm cần mua.
Agilent high performance DC power supplies offer speed and accuracy for test optimization. The modular power system, 1200 W per mainframe, GPIB 66100 series permits up to 8 outputs of 150 W per output in 4U of rack space; reconfigure fast with easily swappable modules; fast, low-noise outputs; and LIST mode and advance triggering system.
The Agilent 150W, GPIB, module output 66104A is a flexible modular supply designed for automated testing that helps meet changing requirements in ATE and production test with a modular design that conserves rack space and simplifies system cabling and assembly.
Output Ratings
Output voltage: 0 to 60 V

Output current: 0 to 2.5 A

Maximum power: 150 W
Programming Accuracy at 25°C ±5°C
Voltage 0.03% + 27 mV

Current 0.03% + 1.2 mA
Ripple & Noise (20 Hz to 20 MHz)
Voltage rms: 9 mV

Voltage Peak-to-Peak: 15 mV

Current rms: 1 mA
Resource & Download
Lưu ý: Nếu một thiết bị nào đó không được liệt kê ở đây, điều đó không có nghĩa rằng chúng tôi không hỗ trợ được bạn về thiết bị đó.
Hãy liên hệ với chúng tôi
 để biết danh sách đầy đủ về thiết bị mà chúng tôi có thể hỗ trợ và cung cấp.
INO: Bán, Báo giá, tư vấn mua sắm và cung cấp, tư vấn sản phẩm thay thế; tương đương, hướng dẫn sử dụng, giá…VNĐ, …USD info@ino.com.vn | Tel: (+84) 028 73000184 | Hewlett-Packard / Agilent Technologies, DC Power Module, 60V, 2.5A (66104A).