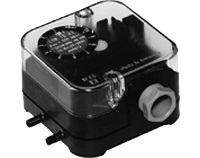 Lưu ý: Tham khảo ý kiến của nhân viên INO sẽ giúp bạn tiết kiệm được thời gian và chi phí khi cần mua sắm. ​​Với sự tư vấn của chúng tôi, bạn sẽ không gặp khó khăn khi tìm hiểu về đặc tính của sản phẩm cần mua.
The differential pressure monitor of type 4 ADS-82 is suitable to switch a current circuit ON, OFF or change it over, when the actual pressure value changes in relation to the setpoint value.
The setpoint value (switching point) is manually set at a setting dial with scale. When the setpoint value is exceeded or fallen below, the current circuit is switched ON, OFF or is changed over. The differential pressure in the pressure chamber uses a membrane to counteract the force of the adjustment spring applied on the micro-switch.
As over- and underpressure switches, the bottom section and the membrane with intermediate disc form the pressure chamber.
As differential pressure switches, the bottom section and a second membrane with the intermediate disc form the two pressure chambers.
For installation purposes, an additional air conditioning set can be ordered consisting of two hose connections, six self-tapping screws, two extension tubes, one drilling template and one plastic mounting bracket.
Features
Measuring ranges: up to 150mbar
Medium temperature: -15…+70 °C
Components coming into contact with the pressure medium are made of polycarbonate
Protection class: IP 54 IEC 529 (EN 60529), protection insulated
EC design test certificate
as per EC gas appliances directive
EC design test certificate
as per EC pressure equipment directive
TüV inspection as pressure monitors of a special
design as per TRD 604 and
VdTüV identification sheet Pressure 100/1, as well as
Class "S" as per EN 1854
Applications
Differential pressure monitoring in

Fuel technology
Ventilation technology
Air conditioning technology
Filter technology
Suitable for air, smoke and flue gas and other non-aggressive gasses
as a differential pressure monitor
Not suitable for technical combustion gasses
Resource & Download
Lưu ý: Nếu một thiết bị nào đó không được liệt kê ở đây, điều đó không có nghĩa rằng chúng tôi không hỗ trợ được bạn về thiết bị đó.
Hãy liên hệ với chúng tôi
 để biết danh sách đầy đủ về thiết bị mà chúng tôi có thể hỗ trợ và cung cấp.
INO: Bán, Báo giá, tư vấn mua sắm và cung cấp, tư vấn sản phẩm thay thế; tương đương, hướng dẫn sử dụng, giá…VNĐ, …USD info@ino.com.vn | Tel: (+84) 028 73000184 | Jumo-Differential pressure monitor for air, smoke and flue gas (Model:40.4201).