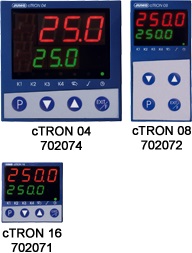 Lưu ý: Tham khảo ý kiến của nhân viên INO sẽ giúp bạn tiết kiệm được thời gian và chi phí khi cần mua sắm. ​​Với sự tư vấn của chúng tôi, bạn sẽ không gặp khó khăn khi tìm hiểu về đặc tính của sản phẩm cần mua.
The controller series comprises three freely configurable, universally usable compact controllers in various DIN formats to control temperature, pressure and other process variables.
Its main applications are heat cabinets, temperature control and cooling systems, drying and deep freezing systems, laboratory furnaces and sterilizers in the foodstuff, plastics processing and packaging industries.
In all design versions, a red and a green 7-segment LED display are used to display process variables and parameters. In addition, the devices are equipped with seven light-emitting diodes to show switching positions, manual mode, ramp function and timer mode. Operation and configuration are made with front-fitted keys.
Depending on the hardware design, the devices can be used as two-stage controllers, three-stage controllers, three-stage modulating controllers or continuous controllers. The basic version includes a self-optimizing function, a ramp function with adjustable gradient, manual mode, mains-ON delay, two limit comparators, extensive timer functions as well as a service counter.
Each device comes with a universal measuring input for RTD temperature probe, thermocouple and standard signals (current, voltage); the linearizations of more than 20 measured value transducers are stored. All types are equipped with a maximum of two binary inputs, one logic output and two relay outputs. In addition, each type can be supplied with a third relay output or an analog output as an option.
As standard, a setup interface is available to allow configuration with the setup program (option). An optional RS485 interface permits integration of the devices in a data network (Modbus).
The device is electrically connected at the rear by means of screw terminals (push-in terminal strips).
Features
Formats 48×48, 48×96, 96x96mm
Universal measuring input
One binary input
Up to four switching outputs, one analog output
Modbus interface
Two/three-state controller, three-state modulating and continuous controller
Timer, ramp function
Programmable user level and function key
2 limit value monitoring functions
Self-optimization
Service counter
Configuration through keyboard or setup program
Applications
Control of temperatures, pressures and other process variables
Resource & Download
Lưu ý: Nếu một thiết bị nào đó không được liệt kê ở đây, điều đó không có nghĩa rằng chúng tôi không hỗ trợ được bạn về thiết bị đó.
Hãy liên hệ với chúng tôi
 để biết danh sách đầy đủ về thiết bị mà chúng tôi có thể hỗ trợ và cung cấp.
INO: Bán, Báo giá, tư vấn mua sắm và cung cấp, tư vấn sản phẩm thay thế; tương đương, hướng dẫn sử dụng, giá…VNĐ, …USD info@ino.com.vn | Tel: (+84) 028 73000184 | Jumo-Compact controller (Model:702070).