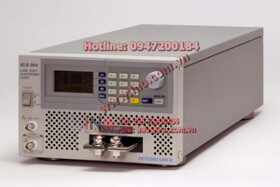 Lưu ý: Tham khảo ý kiến của nhân viên INO sẽ giúp bạn tiết kiệm được thời gian và chi phí khi cần mua sắm. ​​Với sự tư vấn của chúng tôi, bạn sẽ không gặp khó khăn khi tìm hiểu về đặc tính của sản phẩm cần mua.
ELS-304 is an electronic load capable of creating ultra high-speed slew rate for applications requiring high-speed dynamic load effect. Our newly developed electronic load circuits implemented in the ELS-304 (Japan Patent No. 3458334, 3470296, and 3477619) enables the internal parasite impedance to decrease and the bandwidth and the slew rate to be remarkably improved, realizing as fast as 200A/us (four times faster than our conventional products) even in a low voltage presented.
In addition, since ringing of load effect is minimized and it is possible to start operating just near zero volt., you can use the ELS-304 for evaluating the dynamic load effect of VRM and POL power supplies. And because the slew rate of rising and falling waveforms can be finely setup, you can use the ELS-304 for the current interrupt testing for fuel cells, etc.
Maximum power 300W

Low Voltage input operation

Slew rate setting up to 200A/us

Ripple Noise Measurement (Factory Option)

Current Monitor output (Not isolated)

GP-IB and USB interface
Resource & Download
Lưu ý: Nếu một thiết bị nào đó không được liệt kê ở đây, điều đó không có nghĩa rằng chúng tôi không hỗ trợ được bạn về thiết bị đó.
Hãy liên hệ với chúng tôi
 để biết danh sách đầy đủ về thiết bị mà chúng tôi có thể hỗ trợ và cung cấp.
INO: Bán, Báo giá, tư vấn mua sắm và cung cấp, tư vấn sản phẩm thay thế; tương đương, hướng dẫn sử dụng, giá…VNĐ, …USD info@ino.com.vn | Tel: (+84) 028 73000184 | Keisoku Giken, Ultra High Speed Electronic Load (ELS-304).