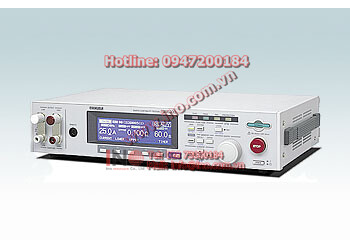 Lưu ý: Tham khảo ý kiến của nhân viên INO sẽ giúp bạn tiết kiệm được thời gian và chi phí khi cần mua sắm. ​​Với sự tư vấn của chúng tôi, bạn sẽ không gặp khó khăn khi tìm hiểu về đặc tính của sản phẩm cần mua.
The TOS6200 tester is designed to perform the ground bond tests required for class-I devices by safety standards such as IEC, EN, VDE, BS, UL, JIS, and the Electrical Appliance and Material Safety Low (Japan).
Equipped with a new high-efficiency power supply, it is compact and lightweight, about half the size and weight of our conventional products, while achieving a large output of 150 VA.
Use of the constant current method eliminates the need to reset test currents even in the face of fluctuating resistance values for the device being tested. The test duration can also be set from 0.3 s, making the tester suitable for production line testing, which requires reduced cycle time.
This tester is also designed for ease of use, featuring a large, easy-to-read display, memory capacity for storage of 100 types of test conditions, and incorporation of test conditions into programs to enable automatic testing. Standard GPIB and RS-232C interfaces allow the user to use PCs or other devices to control test conditions such as test current, resistance value for judgement, and test duration, and enables read-back of measured values and test results.
The tester is also provided with test leads as standard and provides high cost effectiveness.
Features
Test current value: 3 to 30 A AC / Resistance value: 0.001 to 1.200 Ohm
Offset cancelling function
Stores 100 test conditions in memory
Incorporates test conditions into program
Contact Check function
Equipped with standard GPIB and RS-232C interfaces
Equipped with standard test lead
Lineup
Model
Specification
TOS6200
0.001 to 1.200 Ω, Test current can be set to any desired value (3.0 to 30.0A)
> Manual..
Resource & Download
Data sheet
Lưu ý: Nếu một thiết bị nào đó không được liệt kê ở đây, điều đó không có nghĩa rằng chúng tôi không hỗ trợ được bạn về thiết bị đó.
Hãy liên hệ với chúng tôi
 để biết danh sách đầy đủ về thiết bị mà chúng tôi có thể hỗ trợ và cung cấp.
INO: Bán, Báo giá, tư vấn mua sắm và cung cấp, tư vấn sản phẩm thay thế; tương đương, hướng dẫn sử dụng, giá…VNĐ, …USD info@ino.com.vn | Tel: (+84) 028 73000184 | Kikusui-Ground Bond Tester (Model:TOS6200).