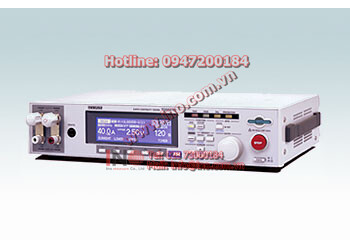 Lưu ý: Tham khảo ý kiến của nhân viên INO sẽ giúp bạn tiết kiệm được thời gian và chi phí khi cần mua sắm. ​​Với sự tư vấn của chúng tôi, bạn sẽ không gặp khó khăn khi tìm hiểu về đặc tính của sản phẩm cần mua.
While inheriting the basic performance and functions of its predecessor (TOS6200), such as a constant current driving system that provides current waveforms with little skew and high measurement accuracy, the TOS6210 tester extends the maximum test current from 30 A to 60 A, which is demanded by the new standard.
In addition, the tester also lets you judge the acceptability of the device under test based on the drop in voltage, as required in the standard. What's more, you can preset test conditions of up to 20 different types of safety standards, such as those for information technology equipment, home appliances, medical devices, and measuring instruments, in the memory on the main unit's panel.
A simple memory call operation allows you to set up a protective earthling or protective bonding continuity test as stipulated in UL60950-1 and other relevant specifications including IEC and JIS standards.
The tester also features a set of functions that meet the specific needs of testing personnel, such as an offset cancellation function and a memo function that allows you to input calibration dates, production numbers, and other test-related information and read the input information later via the GPIB or RS-232C interface.
Features
Test current value: 6 to 62 A AC / Resistance value: 0.001 to 0.600 ohm
Voltage drop-based judgment function
Offset cancelling function
Stores 100 test conditions in memory
Incorporates test conditions into program
Contact Check function
Equipped with standard GPIB and RS-232C interfaces
Equipped with standard test lead (TL12-TOS)
Lineup
| Model | Specification |
| --- | --- |
| TOS6210 | 0.001 to 0.600 Ω, Test current can be set to any desired value (6 to 60A) |
Resource & Download
Data sheet
Lưu ý: Nếu một thiết bị nào đó không được liệt kê ở đây, điều đó không có nghĩa rằng chúng tôi không hỗ trợ được bạn về thiết bị đó.
Hãy liên hệ với chúng tôi
 để biết danh sách đầy đủ về thiết bị mà chúng tôi có thể hỗ trợ và cung cấp.
INO: Bán, Báo giá, tư vấn mua sắm và cung cấp, tư vấn sản phẩm thay thế; tương đương, hướng dẫn sử dụng, giá…VNĐ, …USD info@ino.com.vn | Tel: (+84) 028 73000184 | Kikusui-Ground Bond Tester Supporting UL60950-1 (Model:TOS6210).