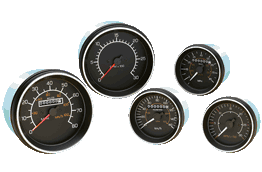 Lưu ý: Tham khảo ý kiến của nhân viên INO sẽ giúp bạn tiết kiệm được thời gian và chi phí khi cần mua sắm. ​​Với sự tư vấn của chúng tôi, bạn sẽ không gặp khó khăn khi tìm hiểu về đặc tính của sản phẩm cần mua.
VIS offers two families of replacement gauges. Both families include speedometers, tachometers, pressure and temperature gauges, and fuel level gauges.
500 Series
The 500 Series speedometers are available in 5-inch and 3-3/8-inch case diameter and have barrier strip connections. They can be configured in the field using DIP switches. These models have black bezels, orange and white scales, orange pointers, and bulb backlighting. The speedometers are also available with chrome bezels and white pointers, and in 12 or 24 volt models.
500 Series speedometers are driven by magnetic sensors. They have dual scales and are available with 80 MPH, 100 MPH or 160 KMH primary scales.
– These ruggedized instruments feature:
Corrosion-resistant, water-tight steel housings
A full 5-year, 500,000 mile warranty
U-clamp mounting brackets
English or metric dials
900 Series
Features:

Quartz crystal timebase
Reliable AccuCoilTM II vector meter movement
English (85 MPH) or metric (160 KPH) scales with or without metric/English subscales
Available in 3-1/2 inch or 5-inch case diameter
Choice of black (standard), chrome, or striped bezel
Low-wattage bulbe illumination
Wireless bulb sockets
Externally accessible configuration switches
Stepper motor drive for smooth quiet odometer
Options
Optional integral 10,000-mile trip odometer
Optional two-speed axle switching
Resource & Download
Lưu ý: Nếu một thiết bị nào đó không được liệt kê ở đây, điều đó không có nghĩa rằng chúng tôi không hỗ trợ được bạn về thiết bị đó.
Hãy liên hệ với chúng tôi
 để biết danh sách đầy đủ về thiết bị mà chúng tôi có thể hỗ trợ và cung cấp.
INO: Bán, Báo giá, tư vấn mua sắm và cung cấp, tư vấn sản phẩm thay thế; tương đương, hướng dẫn sử dụng, giá…VNĐ, …USD info@ino.com.vn | Tel: (+84) 028 73000184 | Vehicular Instrumentation Systems-Analog Gauges (Model:500 Series/900 Series).