Lưu ý: Tham khảo ý kiến của nhân viên INO sẽ giúp bạn tiết kiệm được thời gian và chi phí khi cần mua sắm. ​​Với sự tư vấn của chúng tôi, bạn sẽ không gặp khó khăn khi tìm hiểu về đặc tính của sản phẩm cần mua.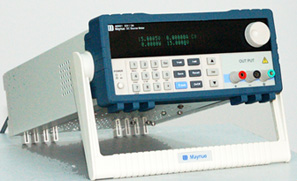 M66 series DC power supply, as a new generation product of programmable power supply with widely range of application, can meet a variety of occasions of measurement requirements. It not only supports all characteristics of high-accuracy power supply, but also can be used in testing cellular phone, DC machine servo driver, any external wave amplification driver, precision electronic components feature,and so on. Supproting be programmed through the keyboard on the panel which will bring great convenience to the users.Moreover, M66 series programmable multifunctional power supply is your best weapon for cellphone research, micro-electronics lab,research institue .
Features:
Design with two scales output (1.000000A , 100.0000mA)
Low instantaneous voltage drop
Program control output response compensation
High-luminance VFD screen with two lines & four channels display
Intellegent fan system fan will be automatically initiated according to the temperature
Automatic test function and multidata storage
High resolution and accuracy(0.1mV/0.01mA)
High speed rising edge and falling edge setting(50uS)
Ammeter measurement function
Remote voltage sensing to compensate for the effect of voltage drop in wires
Four-quadrant power supply provides any-polarity voltage and current
Power-on-selt-test, software calibration and standard rcak mount
Designed as a simple eletronic load and supports inndependent programming to complete battery charging and discharging
Cell phone battery charging and discharging circuit simulation tests
Communication mode: RS232/RS485/USB.
Lưu ý: Nếu một thiết bị nào đó không được liệt kê ở đây, điều đó không có nghĩa rằng chúng tôi không hỗ trợ được bạn về thiết bị đó.
Hãy liên hệ với chúng tôi
 để biết danh sách đầy đủ về thiết bị mà chúng tôi có thể hỗ trợ và cung cấp.
INO: Bán, Báo giá, tư vấn mua sắm và cung cấp, tư vấn sản phẩm thay thế; tương đương, hướng dẫn sử dụng, giá…VNĐ, …USD info@ino.com.vn | Tel: (+84) 028 73000184 | Maynuo Electronic-Multifunctional power supply (M66 series) .