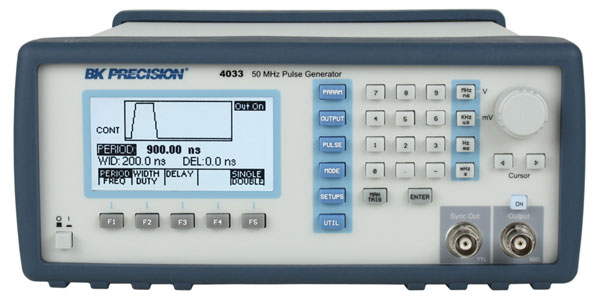 Lưu ý: Tham khảo ý kiến của nhân viên INO sẽ giúp bạn tiết kiệm được thời gian và chi phí khi cần mua sắm. ​​Với sự tư vấn của chúng tôi, bạn sẽ không gặp khó khăn khi tìm hiểu về đặc tính của sản phẩm cần mua.
The 4033 is a high performance programmable pulse generator for testing digital systems and circuits based on TTL, CMOS, or ECL technologies. It generates clean and accurate pulses at up to 6 digits resolution with a repetition rate up to 50 MHz, variable pulse widths from 10 ns to 10 s, and pulse delays from 0 ns to 10 s. Output levels are adjustable from -10 V to +10 V, with pulse amplitudes settable from 0.1 Vpp to 10 Vpp into a 50 ohm load. All parameters, modes, and functions are programmable via the front panel or remote control commands. Additionally, the pulse generator provides selectable complementary pulse and double pulse generation in continuous, triggered, gated, and counted burst modes.
Features & Benefits
Repetition rate of 0.1 Hz to 50 MHz
Flexible trigger modes: Continuous, Triggered (internal, external, manual), Gated Burst and External Width
Pulse width programmable from 10 ns to 10 s
Transition times (rise and fall times) variable from 6 ns to 25 ms
Programmable delay and double pulse
Store up to 99 different test setups with auto retention of last power down setup
10 Vpp into 50 ohm output
Closed case calibration
Programmable via GPIB and RS-232
SCPI compatible
Applications
Automatic Test Equipment (ATE)
Avionics and radar testing
Switching power supply testing
Characterization of active components
Lưu ý: Nếu một thiết bị nào đó không được liệt kê ở đây, điều đó không có nghĩa rằng chúng tôi không hỗ trợ được bạn về thiết bị đó.
Hãy liên hệ với chúng tôi
 để biết danh sách đầy đủ về thiết bị mà chúng tôi có thể hỗ trợ và cung cấp.
INO: Bán, Báo giá, tư vấn mua sắm và cung cấp, tư vấn sản phẩm thay thế; tương đương, hướng dẫn sử dụng, giá…VNĐ, …USD info@ino.com.vn | Tel: (+84) 028 73000184 | Metrix Electronics- BK Precision (Model: BK4033).