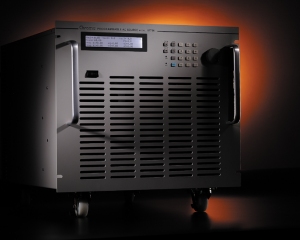 Lưu ý: Tham khảo ý kiến của nhân viên INO sẽ giúp bạn tiết kiệm được thời gian và chi phí khi cần mua sắm. ​​Với sự tư vấn của chúng tôi, bạn sẽ không gặp khó khăn khi tìm hiểu về đặc tính của sản phẩm cần mua.
Key Features:
Output Rating:
Power:
1.5KVA, 3ø (61701);
3KVA, 3ø (61702);
4.5KVA, 3ø (61703);
6KVA, 3ø (61704);
12KVA, 3ø (61705)
Voltage: 0-150V/0-300V
Frequency: 15~1.2kHz
Phase angle: 0~360˚ Programmable
Built-in PFC, provides input power factor of over 0.98
AC+DC output mode
Comprehensive measurement capability,V, Irms, Ipk, Iinrush, P, PF, CF of current etc.
Programmable r.m.s. current limit
Turn on, turn off phase angle control
Full protection: OP, OC, OV and OT protection
Optional GPIB and RS-232 interface
Advanced PWM technology delivers high power density in a compact rack-mountable package
User-definable power-on status
Built-in output isolation relays
Easy use graphic user interface: softpanel (Option)
Optional function for transient voltage output, including LIST, PULSE, STEP ans INTERHARMONICS mode
The Chroma Programmable AC Power Source model 61700 series delivers pure, 5-wire, 3-phase AC power. Unlike the traditional 3-phase AC power source, it includes low power rating models at very low cost. Users can program voltage and frequency, measure the critical characteristics of the output on its LCD display. It delivers the right solution to simulate all kinds of input condition of UUT to be utilized in R&D and QA. It is also suitable for commercial applications from laboratory testing to mass productions.
The 61700 supplies the output voltage from 0 to 300VAC and it can be set individually for each phase. Users also can set the phase angle from 0? to 360?. These kinds of function make the 61700 series can simulate unbalance 3-phase power. Because of the wide output frequency from 15 to 1200Hz, it is suitable for avionics, marine and military application. The AC+DC mode extends the output function to simulate abnormal situation when power line contains DC offset.
The 61700 series uses the state-of-the-art PWM technology, so it is capable to generate very clean AC output with typical distortion less than 0.3%. With power factor correction circuit, the 61700 series yields higher efficiency and deliver more output power.
By using advanced DSP technology, the 61700 series offers precision and high speed measurements such as RMS voltage, RMS current, true power, power factor, and current crest factor, etc.
The 61700 series offers an optional function to output transient voltage. The function includes LIST, PULSE, STEP and INTERHARMONICS mode. Users can easily program variant waveform for immunity test. The 61700 series can also be controlled by a powerful and userfriendly softpanel through GPIB or RS-232 interface. Besides that, the softpanel includes a waveform editor that can edit up to 40th order harmonic components. By this way, the 61700 series get the ability to output distorted waveform as users like.
Resource & Download
Lưu ý: Nếu một thiết bị nào đó không được liệt kê ở đây, điều đó không có nghĩa rằng chúng tôi không hỗ trợ được bạn về thiết bị đó.
Hãy liên hệ với chúng tôi
 để biết danh sách đầy đủ về thiết bị mà chúng tôi có thể hỗ trợ và cung cấp.
INO: Bán, Báo giá, tư vấn mua sắm và cung cấp, tư vấn sản phẩm thay thế; tương đương, hướng dẫn sử dụng, giá…VNĐ, …USD info@ino.com.vn | Tel: (+84) 028 73000184 | Chroma ATE-Programmable AC Source (Model: 61700 series).