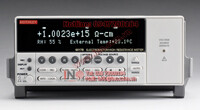 Lưu ý: Tham khảo ý kiến của nhân viên INO sẽ giúp bạn tiết kiệm được thời gian và chi phí khi cần mua sắm. ​​Với sự tư vấn của chúng tôi, bạn sẽ không gặp khó khăn khi tìm hiểu về đặc tính của sản phẩm cần mua.
Keithley\'s 5½-digit Model 6517B Electrometer/High Resistance Meter offers accuracy and sensitivity specifications unmatched by any other meter of this type. Italso offers a variety of features that simplifies measuring high resistances and the resistivity of insulating materials. With reading rates of up to 425 readings/ second, the Model 6517B is also significantly faster than competitive electrometers, so it offers a quick, easy way to measure low-level currents.
The Model 6517B is an updated version, replacing the earlier Model 6517A, which was introduced in 1996. Software applications created for the Model 6517A using SCPI commands can run without modifications on the Model 6517B. However, the Model 6517B does offer some useful enhancements to the earlier design. Its internal battery-backed memory buffer can now store up to 50,000 readings, allowing users to log test results for longer periods and to store more data associated with those readings. The new model also provides faster reading rates to the internal buffer (up to 425 readings/second) and to external memory via the IEEE bus (up to 400 readings/second). Several connector modifications have been incorporated to address modern connectivity and safety requirements.
Measures resistances up to 1016Ω

1fA – 20mA current measurement range

<20µV burden voltage on lowest current ranges

200TΩ input impedance

<3fA bias current

Up to 425 rdgs/s

0.75fA p-p noise

Built-in ±1kV voltage source

Unique voltage reversal method for high resistance measurements

Optional plug-in scanner cards
Lưu ý: Nếu một thiết bị nào đó không được liệt kê ở đây, điều đó không có nghĩa rằng chúng tôi không hỗ trợ được bạn về thiết bị đó.
Hãy liên hệ với chúng tôi
 để biết danh sách đầy đủ về thiết bị mà chúng tôi có thể hỗ trợ và cung cấp.
INO: Bán, Báo giá, tư vấn mua sắm và cung cấp, tư vấn sản phẩm thay thế; tương đương, hướng dẫn sử dụng, giá…VNĐ, …USD info@ino.com.vn | Tel: (+84) 028 73000184 | Model 6517B Electrometer/High Resistance Meter.