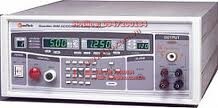 Lưu ý: Tham khảo ý kiến của nhân viên INO sẽ giúp bạn tiết kiệm được thời gian và chi phí khi cần mua sắm. ​​Với sự tư vấn của chúng tôi, bạn sẽ không gặp khó khăn khi tìm hiểu về đặc tính của sản phẩm cần mua.
The Guardian 5000 is four instruments in one providing AC Hipot, DC Hipot, Insulation Resistance and Ground Bond measurements in one versatile instrument. This provides a cost effective solution to electrical safety compliance testing with maximum flexibility for present and future requirements. Performing all of the electrical safety tests in one box can reduce test time, increase productivity and reduce the number of boxes requiring calibration.
The Guardian 5000 is a digital hipot providing load and line regulation. This ensures correct test voltages and accurate trip limits regardless of the device under test. The ability to perform 15 steps and IEEE-488 interface or optional RS232 interface makes the Guardian 5000 ideal for automated testing of products either stand alone or with a computer.
Resource & Download
Lưu ý: Nếu một thiết bị nào đó không được liệt kê ở đây, điều đó không có nghĩa rằng chúng tôi không hỗ trợ được bạn về thiết bị đó.
Hãy liên hệ với chúng tôi
 để biết danh sách đầy đủ về thiết bị mà chúng tôi có thể hỗ trợ và cung cấp.
INO: Bán, Báo giá, tư vấn mua sắm và cung cấp, tư vấn sản phẩm thay thế; tương đương, hướng dẫn sử dụng, giá…VNĐ, …USD info@ino.com.vn | Tel: (+84) 028 73000184 | QuadTech Inc, Electrical Safety Analyzer (GUARDIAN 5000).