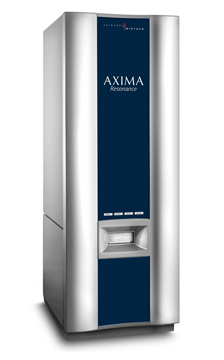 Lưu ý: Tham khảo ý kiến của nhân viên INO sẽ giúp bạn tiết kiệm được thời gian và chi phí khi cần mua sắm. ​​Với sự tư vấn của chúng tôi, bạn sẽ không gặp khó khăn khi tìm hiểu về đặc tính của sản phẩm cần mua.
Ultimate MALDI MS and MSn Performance
Combining the simplicity of MALDI, the power of MSn, and the accuracy and resolution of TOF, the AXIMA Resonance provides researchers a unique solution to the next generation of structural and sequencing challenges. Designed without compromise, the AXIMA Resonance features high mass resolution and mass accuracy across MS and MSn analyses, excellent precursor ion selection, variable energy CID control on the fly, and outstanding sensitivity to ensure confident, high-quality results across a range of applications.
Advanced MSn Performance
The unique combination of MALDI and QIT allows generation of ions using a number of different matrices; switching between positive and negative ionization modes in seconds; simple high resolution precursor ion selection for MSn experiments, and controllable MSn fragmentation.
Incorporating a TOF analyzer promotes high resolution and high mass accuracy for all ions generated regardless of their origin.
Excellent Precursor Ion Selection
Allows ions from complex mixtures or closely associated neighboring isotopic envelopes to be easily isolated and subsequently fragmented; trapping resolution greater than 1000 FWHM permits the analysis of samples with similar nominal mass
Lưu ý: Nếu một thiết bị nào đó không được liệt kê ở đây, điều đó không có nghĩa rằng chúng tôi không hỗ trợ được bạn về thiết bị đó.
Hãy liên hệ với chúng tôi
 để biết danh sách đầy đủ về thiết bị mà chúng tôi có thể hỗ trợ và cung cấp.
INO: Bán, Báo giá, tư vấn mua sắm và cung cấp, tư vấn sản phẩm thay thế; tương đương, hướng dẫn sử dụng, giá…VNĐ, …USD info@ino.com.vn | Tel: (+84) 028 73000184 | Shimadzu- MALDI TOF-TOF Mass Spectrometer (Model:AXIMA Resonance).