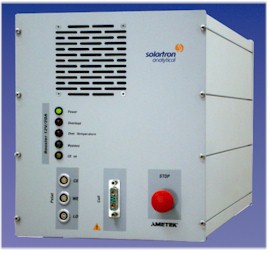 Lưu ý: Tham khảo ý kiến của nhân viên INO sẽ giúp bạn tiết kiệm được thời gian và chi phí khi cần mua sắm. ​​Với sự tư vấn của chúng tôi, bạn sẽ không gặp khó khăn khi tìm hiểu về đặc tính của sản phẩm cần mua.
Overview
Features
Maximum applied polarization 50 V/25 A
Frequency range 10 µHz to 100 kHz
Compatible with Solartron potentiostats including 1280, 1285A, 1287A, 1470E, 1480A and 1470A
Compatible with Solartron FRAs including, 1250, 1252A, 1253A, 1255, 1260A, 1455, 1451 (with appropriate potentiostat)
Compatible with CellTest® Software and MultiStat, ZPlot/CorrWare (downloadable from www.scribner.com)
Applications include:

Development of energy sources for laptop PCs, mobile phones and power tools.
Fuel cell and supercapacitor research for electric vehicle or standby power.
Battery research including the new generation 42V lead acid automotive batteries.
Electrochemical etching and electroplating.
For DC test work, an extensive range of techniques are available for use with these boosters.
potentiostatic/galvanostatic
cyclic voltammetry
ohmic drop
high-speed voltage/current pulse techniques (e.g. for testing GMS mobile phone and satellite communication energy storage devices)
When used for measuring AC impedance, the following analysis techniques are available depending on the chosen configuration of potentiostat and FRA:
Swept sine analysis – for ultimate accuracy and repeatability
Multi-sine / Fast Fourier Transform (FET) – for fast impedance analysis
Harmonic analysis – for optimization of stimulus levels and detection of noise and interference
The frequency range of the power booster is 10 µHz to 100 kHz allowing a wide range of energy storage devices to be characterized over their full frequency range.
Software
These power boosters are fully integrated with the full range of Solartron single and multi-channel software packages. All scaling factors and control issues are taken care of by the software.
High Performance . . .
These power boosters are designed to operate with Solartron single and multi-channel potentiostats.
Floating design – enables tests on grounded cells
Simultaneous DC and impedance tests on short stack fuel cells and individual cells within the stack (depending on potentiostat capability)
Choice of models with up to 50V / 25A range
100 kHz impedance measurement bandwidth for SOFC and other high frequency applications
Automatically controlled by the potentiostat
Choice of Models
Four models are available, as follows:
Model Number
Boost 12V20A
Boost 24V10A
Boost 50V5A
Boost 50V25A
Output Range
+12V / -3V, ±20A
+24V / -3V, ±10A
+50V / -3V, ±5A
+50V / -3V, 0 to -25A*
Specifications
Voltage Drive
Maximum Voltage
Depends on booster model
Voltage Scaling
x10
Voltage Ranges
Selected by potentiostat
Voltage Accuracy
±0.1% of full scale
Voltage Monitor
Scaling
1/10 of Cell Voltage
Range Current Drive
0 to +5V, corresponding to 0 to +50V
Maximum Current
Depends on booster model
Current Scaling
x1000
Current Ranges
Selected by potentiostat
Current Accuracy
±0.1% of full scale
Current Monitor
Scaling
1/1000 of Cell Current
Range Cell Connections
0 to ±25 mA, corresponding to 0 to ±25A
Drive
2 x 4 mm banana plug
Sense
2 x 4 mm banana plug
Potentiostat Connections (included)
Cable Set for
1287, 1285, 1280
Cable Set for Front Panel Controls
1470, 1480 Cell Test System
Stop Button
Mechanical latching
General
Power Consumption
500 VA
Supply (single phase)
47-63 Hz, 90 V to 264 V
Dimensions (w x h x d)
8.25 in (210 mm), 10 in (254 mm), 17.75in (451 mm)
Weight
13.5 kg (30 lbs)
Resource & Download
Lưu ý: Nếu một thiết bị nào đó không được liệt kê ở đây, điều đó không có nghĩa rằng chúng tôi không hỗ trợ được bạn về thiết bị đó.
Hãy liên hệ với chúng tôi
 để biết danh sách đầy đủ về thiết bị mà chúng tôi có thể hỗ trợ và cung cấp.
INO: Bán, Báo giá, tư vấn mua sắm và cung cấp, tư vấn sản phẩm thay thế; tương đương, hướng dẫn sử dụng, giá…VNĐ, …USD info@ino.com.vn | Tel: (+84) 028 73000184 | Signal Recovery-Power Booster Potentiostat/Galvanostat.