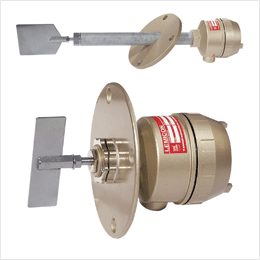 Lưu ý: Tham khảo ý kiến của nhân viên INO sẽ giúp bạn tiết kiệm được thời gian và chi phí khi cần mua sắm. ​​Với sự tư vấn của chúng tôi, bạn sẽ không gặp khó khăn khi tìm hiểu về đặc tính của sản phẩm cần mua.
WKR Series
These switches are incomparable models based on our abundant technology, experience, and long-term achievements in the market. As we offer variety of product line, we assure that you will be able to find an optimum model.
Features
Easy to adjust torque by taking off the cover
Oil-seal and thrust-Teflon packing prevents powder ingress
The clutch system helps prevent the motor from being broken even when the paddle is overloaded.
You may reliably detect the measuring substance from hypobaric powder to particles with no sensitivity adjustment after choosing the appropriate size of the paddle.
Principle Of Operation Inner Components
When the medium reaches the point of level switch, the level switch activates a limit switch and brings contact output. With no load by sediments, the motor resumes rotation. When the paddle is overloaded or suffers strong shock, a clutch system prevents the motor from being broken by letting out excessive load and shock.
Features Standard Specification
Power

100~110VAC or 200~220VAC 50/60Hz

Power Consumption

4W

Contact Capacity

250VAC 5A (resistance load)

Rotation Number

1RPM(50Hz)

Operating Temp.

Below 50°C(in a tank)

Withstand Voltage

1500VAC one minute for in between terminal and

housing

Measuring Torque

980~1764N mX10¯⁴

Withstand Pressure

19.6Kpa

Mounting Method

G1B or JIS 5K65A or equivalent

IP rating

IP55
Inner Components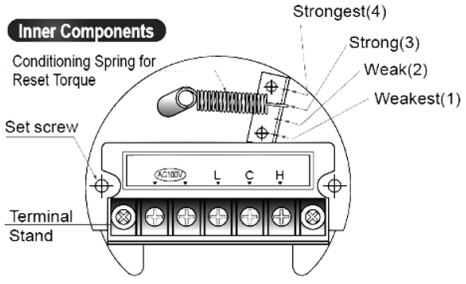 Lưu ý: Nếu một thiết bị nào đó không được liệt kê ở đây, điều đó không có nghĩa rằng chúng tôi không hỗ trợ được bạn về thiết bị đó.
Hãy liên hệ với chúng tôi
 để biết danh sách đầy đủ về thiết bị mà chúng tôi có thể hỗ trợ và cung cấp.
INO: Bán, Báo giá, tư vấn mua sắm và cung cấp, tư vấn sản phẩm thay thế; tương đương, hướng dẫn sử dụng, giá…VNĐ, …USD info@ino.com.vn | Tel: (+84) 028 73000184 | Wess-Rotary Paddle Type Level Switch ( Model: WKR Series ).