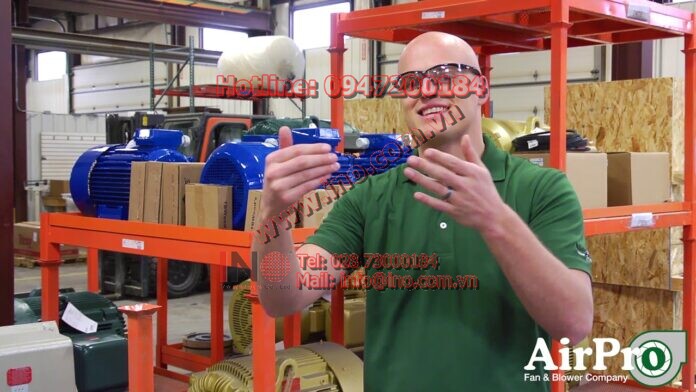 How to Size Your Fan Motor
Các câu hỏi, thắc mắc, thông tin liên quan đến sản phẩm được giới thiệu trong video dưới đây từ khâu mua sắm, lựa chọn, sử dụng, cài đặt hay thay thế, vui lòng liên hệ với INO Team để được hỗ trợ và tư vấn kịp thời.

– – – LƯU Ý – – -: Với những thiết bị không được liệt kê ở đây không có nghĩa là chúng tôi không hỗ trợ được bạn, công ty chúng tôi chuyên đề xuất giải pháp, tư vấn mua sắm và cung cấp thiết bị về cảm biến công nghiệp, đo lường và tự động hoá cho các công ty trong và ngoài nước.
Công ty TNHH Giải pháp và Công nghệ Đo lường INO, nhà cung cấp các thiết bị đo lường và tự động hóa công nghiệp.
When it's time to select your fan motor, size does matter. Too big and you lose efficiency; too small and you lose functionality. How do you know what's just right?
Just two factors determine the right size motor to specify: the type of drive in your application, and the brake horsepower (BHP) specified by the fan manufacturer. In this 1½-minute video, Senior Application Engineer Chet White explains how to make the call.
Looking for more information about industrial fan motors or other components? Contact fans@airprofan.com or visit: https://airprofan.com/
Read Full Transcript:
So when you select a fan, you get a brake horsepower from your fan manufacturer. This indicates how much horsepower you need in the motor that you select to drive your fan. So behind me, we've got a few motors. There are some 100 horsepower motors over there, some 25 horse motors behind us, and 400 horsepower motors over here.
So why were they selected at the horsepower they were selected at? In a direct-driven application, your motor is directly in line with either a fan shaft that's rotating the wheel or the motor itself acts as the shaft for the fan wheel to sit on. In that application, there's no drive loss from your brake horsepower to your motor. So in that case, whatever your brake horsepower is, you need at least that much horsepower in your motor to overcome the power needed to drive your fan. In a belt-driven application, you get a bit of a loss in the v-belt drive.
So a v-belt drive typically has about a 3-6% drive loss, so if your application calls for a certain brake horsepower at the wheel, you need to add about 3% for a higher horsepower application up to 6% for a lower horsepower application. You need to add that into your brake horsepower in order to properly size your motor to overcome that load.
VISIT OUR WEBSITE:
SUBSCRIBE TO OUR CHANNEL FOR OTHER VIDEO TIPS & HELPFUL INFO:
https://www.youtube.com/channel/UCeJCulg-aBCMs3G5TcsbVOA
SUBSCRIBE TO OUR EMAIL LIST:
LET'S CONNECT!
Email: fans@airprofan.com
LinkedIn: https://www.linkedin.com/company/airpro-fan-and-blower/
Facebook:https://www.facebook.com/AirProFan
Web: www.ino.com.vn | Mail: info@ino.com.vn
Tel: (+84) 028 73000184 | Hotline: 0947200184
Website: http://www.ino.com.vn Website: http://www.ino.vn
Please visit INO YouTube Channel for more Video
https://www.youtube.com/inomeasure