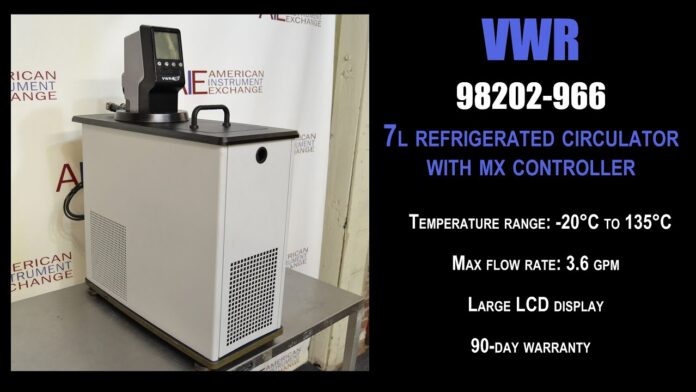 VWR 7L Refrigerated Circulator with MX Controller (1509R CIRCULATOR)
Các câu hỏi, thắc mắc, thông tin liên quan đến sản phẩm được giới thiệu trong video dưới đây từ khâu mua sắm, lựa chọn, sử dụng, cài đặt hay thay thế, vui lòng liên hệ với INO Team (Đại lý, Nhà phân phối, Partner tại Việt Nam) để được hỗ trợ và tư vấn kịp thời.

– – – LƯU Ý – – -: Với những thiết bị không được liệt kê ở đây không có nghĩa là chúng tôi không hỗ trợ được bạn, Công ty chúng tôi chuyên đề xuất giải pháp, tư vấn mua sắm và cung cấp thiết bị về:
Nhiệt độ (tiếp xúc và không tiếp xúc), áp suất và chênh áp (Cơ và điện tử), lưu lượng, mức bồn bể, dò tìm rò rỉ khí nén, chẩn đoán bẫy hơi, đo mức bùn và mật độ bùn trong xử lý bùn và xử lý nước thải, camera quan sát ở nhiệt độ cao cho lò luyện thép và cán thép, camera cho lò nung Clinker nhà máy xi măng, pressure chart recorder, thiết bị siết bu long bằng thủy lực, khí nén hoặc bằng điện, động cơ, nguồn PLC, PLC, Biến tần, khởi động mềm, biến trở lỏng cho nhà máy xi măng, đầu đốt, burner, cảm biến quang học, cảm biến laser, cảm biến tiệm cận, siêu âm, thu nhận dữ liệu, lưu trữ và truyền dữ liệu (Data logger), chẩn đoán tình trạng động cơ bằng rung động, thiết bị hiệu chuẩn nhiệt độ, áp suất, thiết bị bảo trì đa năng, thiết bị siết lực, hiệu chuẩn và cân chỉnh, thiết bị phòng Lab…
Công ty TNHH Giải pháp và Công nghệ Đo lường INO, nhà cung cấp các thiết bị đo lường và tự động hóa công nghiệp.
VWR 7L Refrigerated Circulator with MX Controller
https://americaninstrument.com/equipment/product/?code=1509R-CIRCCirculators
• Model 98202-966
• Temperature range: -20°C to 135°C
• Max flow rate: 3.6 gpm
• Large LCD display
• 90-day warranty
The large, LCD display on the MX temperature controller is easily viewed across the lab. The Advanced Digital temperature controller offers a touchpad, while the Advanced Programmable Temperature Controller includes a full touch-screen display, and programmability (ten 100-step programs). The MX provides working temperatures from -20°C to 135°C with single-point calibration. The VWR 7L refrigerated circulator includes the LidDock lid stowing system that gives the lid a convenient place to perch while you add liquid or work with samples, without interfering with the controller viewing or operation. The DuraTop precision molded phenolic bath top, which remains cooler at high temperatures and resists laboratory chemicals. It is easy to clean, disinfect, and maintain.
Certifications:ETL listed. CE marked. MX Controller complies with DIN 12876-1 Class I safety requirements for use with non-flammable liquids. Advanced Digital and Advanced Programmable comply with DIN 12876-1 Class III safety requirements for use with flammable liquids. cETLus compliant.
All of our equipment is used and reconditioned. Our technicians test all equipment to confirm that it operates properly and to the manufacturer's specifications. While we can't test for a specific analytical application, we will do our best to simulate the conditions under which the equipment will be run. If you have particular testing requirements or requests please let us know and we'll work with you to make sure these requirements are addressed during testing.
The videos above are representative. Please bear in mind that the equipment shown is currently in storage in our warehouse and that in addition to testing each machine we will clean all the equipment thoroughly prior to shipment. We often have multiple units of each model in stock and sometimes we're unable to feature photos of every single unit. At your request, we can provide photos of the equipment in your order after it has been tested and cleaned.
Click link below to view more used and refurbished lab equipment from American Instrument Exchange: https://www.americaninstrument.com
For more information contact us at
American Instrument Exchange, Inc.
1023 Western Avenue
Haverhill, MA 01832
Phone: 978-521-2221
Fax: 978-521-8822
EMAIL: info@americaninstrument.com
Visit our website for all your laboratory equipment needs
www.americaninstrument.com
Khách hàng ở Việt Nam, vui lòng liên hệ để mua hàng.
Web: www.ino.com.vn | Mail: info@ino.com.vn
Tel: (+84) 028 73000184 | Hotline: 0947200184
Website: http://www.ino.com.vn Website: http://www.ino.vn
Please visit INO YouTube Channel for more Video
https://www.youtube.com/inomeasure