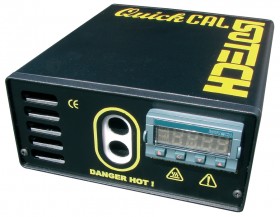 Lưu ý: Tham khảo ý kiến của nhân viên INO sẽ giúp bạn tiết kiệm được thời gian và chi phí khi cần mua sắm. ​​Với sự tư vấn của chúng tôi, bạn sẽ không gặp khó khăn khi tìm hiểu về đặc tính của sản phẩm cần mua.
 The low temperature Quick-Cal 560 covers the temperature range of -12°C to 140°C (in ambient of 20°C). Quick-Cal 560 tester is idealy suited to the less exacting applications where our larger, better specified baths are unnecessary, which makes it perfect for the medical, sterilization and food industries.
It has interchangeable inserts, so you don't have to buy another calibrator each time you find a new diameter sensor to calibrate. The low temperature Quick-Cal 560 is particularly exciting since it can work from a small 12 V battery, making it truly portable, alternatively a mains supply is available with 100 / 240 V, 50/60 Hz input.
The dry block comes complete with two inserts, one blank and one drilled 6.8 mm diameter 120 mm deep. Alternatively, we can provide pre-drilled inserts to suit your specific needs. Each calibration well is 13 mm diameter and 120 mm deep.
Temperature range
-12°C (Tamb 20°C) to +140°C
Resolution
0.1°C
Accuracy :
Comparison calibration
Against display temperature with a single probe in the 6.8 mm sleeve

±0.1°C to ±0.4°C
±0.4°C
Stability
±0.05°C
Heating time
0°C to 100°C: 9 min
Additional time for best stability
5 min
Calibration volume
Two pockets of: 13 mm x 120 mm depth
General specifications
| | |
| --- | --- |
| Size | 65 x 152 x 175 mm |
| Weight | 1.5 kg |
| Power supply | Switch mode between 15 VDC or 100 / 240 VAC, 50/60 Hz |
Resource & Download
Lưu ý: Nếu một thiết bị nào đó không được liệt kê ở đây, điều đó không có nghĩa rằng chúng tôi không hỗ trợ được bạn về thiết bị đó.
Hãy liên hệ với chúng tôi
 để biết danh sách đầy đủ về thiết bị mà chúng tôi có thể hỗ trợ và cung cấp.
INO: Bán, Báo giá, tư vấn mua sắm và cung cấp, tư vấn sản phẩm thay thế; tương đương, hướng dẫn sử dụng, giá…VNĐ, …USD info@ino.com.vn | Tel: (+84) 028 73000184 | AOIP-Cost-effective compact and fast dry block (Model:QUICK-CAL 560).