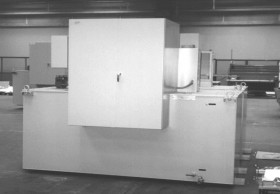 Lưu ý: Tham khảo ý kiến của nhân viên INO sẽ giúp bạn tiết kiệm được thời gian và chi phí khi cần mua sắm. ​​Với sự tư vấn của chúng tôi, bạn sẽ không gặp khó khăn khi tìm hiểu về đặc tính của sản phẩm cần mua.
EPM electrolytic starters can be used to start slipring motors from 500 kW to 20,000 kW. They will supply the power necessary to drive the motor by resistance variation. Designed for controlled starting and speed control of large slipring motors in demanding applications, the EPM liquir rotor starters ensure a smooth progressive acceleration of installations such as:
Ventilation
Crushing
Milling
Conveyors
Pumps…
They are widely used in various industries such as mines, quarries, cement plants, water treatment and associated industries. They are also adapted to specific applications such as car fragmentisers, plastic mixers and sugar cane knives.
Several models and options are available according to the starting power required, the inertia of the driven machine and the application. Feel free to contact us and explain us about your requirements (Use the section Necessary information to quote a starter), our staff will quote the suitable starter and the eventual necessary options.
You will find below the description of an EPM starter and its operating principle.
Necessary information to quote a starter
Driven machine:
Type (Crusher, conveyor…)
Rotor data: Motor power, rotor voltage, rotor current
Motor speed in tr / min
Single or dual assembly
Ambient temperature: Minimum, maximum and average value
Starting time in s
Temps de démarrage : en secondes
Starting torge: Cn
Number of starts per hour
Number of consecutive starts
Country of destination
Electrical features:
Reference
Maximum power
Tstarter / Tnominal = 0.7
Tstarter / Tnominal = 1
Tstarter / Tnominal = 1.4
Tstarter / Tnominal = 2
EPM1/1
1,600 kW
1,100 kW
790 kW
550 kW
EPM2/1
2,600 kW
1,800 kW
1,300 kW
900 kW
EPM3/1
5,200 kW
3,700 kW
2,600 kW
1,850 kW
EPM3/2
6,400 kW
4,500 kW
3,200 kW
2,250 kW
EPM4/1
7,800 kW
5,500 kW
3,900 kW
2,750 kW
EPM4/2
13,000 kW
9,100 kW
6,500 kW
4,550 kW
EPM1/1 DUO
2 x 1,600 kW
2 x 1,100 kW
2 x 790 kW
2 x 550 kW
EPM2/1 DUO
2 x 2,600 kW
2 x 1,800 kW
2 x 1,300 kW
2 x 900 kW
EPM3/1 DUO
2 x 5,200 kW
2 x 3,700 kW
2 x 2,600 kW
2 x 1,850 kW
EPM3/2 DUO
2 x 6,400 kW
2 x 4,500 kW
2 x 3,200 kW
2 x 2,250 kW
EPM3/1 DUO
2 x 7,800 kW
2 x 5,500 kW
2 x 3,900 kW
2 x 2,750 kW
EPM4/2 DUO
2 x 9,100 kW
2 x 6,500 kW
2 x 4550 kW
Maximum power of engine given for 1 start/hour and 3 consecutive starts from cold state.
Different models exist to suit the power of the starter(s) and the inertia of the driven machine.
The ranges of EPM starters given above are theoretical only, as ranges will depend on many further non negligible parameters such as starting conditions, starting time and cadenza, torque, type and load of the driven machine, ambient temperature…
Rotor voltage between rings: 3,500 V max
Standard starting times: 20, 30, 40, 60, 80, 130 s factory preset
Level of electrolyte monitored by magnetic floating system
Electrolyte temperature monitored by thermostats
Electrolyte cooling down by natural convection and agitator mixing
Low current density of electrodes: about 1 A/cm².
Further features

Démarreur EPM DUO
When starting machines of large powers, or in order to reduce mechanical stress, it is sometimes preferable to use two starters totaling the rated power rather than a single one.
An EPM DUO starter is then used, to ensure identical acceleration of both motors.
The EPM DUO consists in two resistances whose ohmic values are equalized between the two tanks. The electrode drive assemblies are mechanically coupled, so as to ensure complete synchronization of the movement of the two electrode assemblies, which are driven by a common geared motor.
The two resistances are finally shorted out by a single four or six pole shorting contactor, at the end of the run-up period.
EPM starter with heat exchanger
An EPM starter equipped with a heat exchanger is suitable for applications requiring:
– high starting cadenza
– speed variation or permanent sliding of the engine
An exchanging system can be mounted on any EPM started, with the addition of a regulation servo-motor and a heat exchanger.
Heat dissipation and capacity are increased significantly.
This option requires an onsite supply of cool water.
Electrolyte
Composition: In powder or crystal form for mixing with drinking water and anti-evaporation oil
Electrolyte temperature is controlled by thermostat 16 A/400 V.
Electrolyte level: level is visible through transparency of tanks.
Antigel (option)
Protection down to -20°C
It has to be inserted into the electrolyte before commissioning since it alters its resistivity. Il can be used throughout the year.
Resource & Download
Lưu ý: Nếu một thiết bị nào đó không được liệt kê ở đây, điều đó không có nghĩa rằng chúng tôi không hỗ trợ được bạn về thiết bị đó.
Hãy liên hệ với chúng tôi
 để biết danh sách đầy đủ về thiết bị mà chúng tôi có thể hỗ trợ và cung cấp.
INO: Bán, Báo giá, tư vấn mua sắm và cung cấp, tư vấn sản phẩm thay thế; tương đương, hướng dẫn sử dụng, giá…VNĐ, …USD info@ino.com.vn | Tel: (+84) 028 73000184 | AOIP-Electrolytic starters (LRS) for slipring motors from 550 to 20,000 kW (Model:EPM).