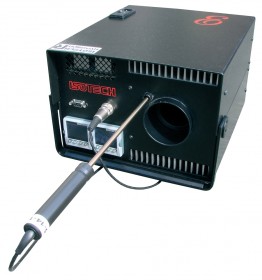 Lưu ý: Tham khảo ý kiến của nhân viên INO sẽ giúp bạn tiết kiệm được thời gian và chi phí khi cần mua sắm. ​​Với sự tư vấn của chúng tôi, bạn sẽ không gặp khó khăn khi tìm hiểu về đặc tính của sản phẩm cần mua.
The Hyperion R 982 portable Blackbody calibration source allows for calibration of non-contact infrared thermometers from -10°C to 80°C. It is suitable for use as a primary radiation source for infrared thermometers.
Laboratory performance and low uncertainty calibrations are ensured by the combination of high emissivity and excellent temperature uniformity.
The digital temperature controller allows the block temperature to be set to any value from -10°C to 80°C.
Traceability of the radiance temperature is established by a separate, built-in temperature indicator and an included Platinum resistance thermometer.
A three point traceable calibration certificate is included in standard. UKAS calibration of the resistance thermometers is available in option.
Uniformity of the block is ensured by using distributed thermoelectric heat pumps with the benefit of vibration free cooling.
| | |
| --- | --- |
| Temperature range | -10°C to +80°C |
| Cavity size | 50 x 150 mm deep |
| Stability | ±0.1°C |
| Emissivity | > 0.995 |
| Heating time | To 80°C: 40 min |
| Cooling time | To -10°C: 45 min |
General specifications
Size
310 x 265 x 200 mm
Weight
10 kg
Display
Resolution: 0.01°C
Power supply
100 / 130 V or 208 / 240 VAC, 50/60 Hz

200 Watts
Resource & Download
Lưu ý: Nếu một thiết bị nào đó không được liệt kê ở đây, điều đó không có nghĩa rằng chúng tôi không hỗ trợ được bạn về thiết bị đó.
Hãy liên hệ với chúng tôi
 để biết danh sách đầy đủ về thiết bị mà chúng tôi có thể hỗ trợ và cung cấp.
INO: Bán, Báo giá, tư vấn mua sắm và cung cấp, tư vấn sản phẩm thay thế; tương đương, hướng dẫn sử dụng, giá…VNĐ, …USD info@ino.com.vn | Tel: (+84) 028 73000184 | AOIP-Hyperion, low temperature primary Blackbody source (Model:HYPERION R 982).