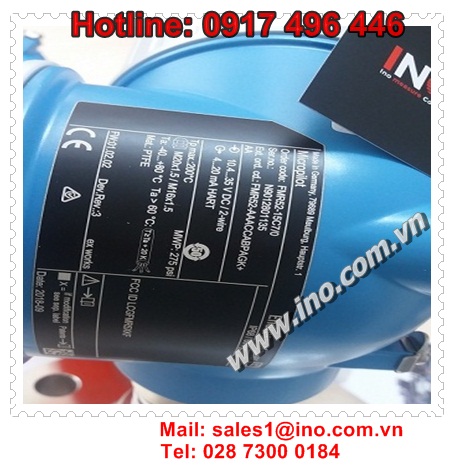 INO Measure Co., Ltd có khả năng tư vấn mua sắm, sử dụng, lắp đặt và cung cấp các thiết bị đo lường và tự động hoá. Nếu bạn có nhu cầu mua sắm hoặc cần sự hỗ trợ về kỹ thuật cho một thiết bị không được liệt kê ở đây, xin vui lòng liên hệ với chúng tôi.
Lưu ý: Tham khảo ý kiến của nhân viên INO sẽ giúp bạn tiết kiệm được thời gian và chi phí khi cần mua sắm. ​​Với sự tư vấn của chúng tôi, bạn sẽ không gặp khó khăn khi tìm hiểu về đặc tính của sản phẩm cần mua.
Configuration:
Characteristic
Value
Description
Approval:
AA
Non-hazardous area
Power supply; output:
A
2-wire; 4-20mA HART
Display, Operation:
C
SD02 4-line, push buttons+data backup function
Housing:
C
GT20 Dual compartment, Alu, coated
Electrical connection:
A
Gland M20, IP66/68 NEMA4X/6P
Antenna:
BP
Horn 80mm/mm/3''

-196…200 độ C/-321…392 độ F, flush mount

Process Connection:
AGK
NPS 3'' Cl.150, PTFE>316/316L

Flange ASME B16.5

Additional Operation  Langu
AA
English
For applications in aggressive liquids Micropilot FMR52 offers extraordinary advantages with its completely PTFE-filled and flush-mounted horn antenna. The FMR52 is also the sensor for hygiene-sensitive applications in the food and life sciences industry – ASME BPE, USP Class VI, 3-A and EHEDG approvals. Micropilot is used for continuous, non-contact level measurement of liquids, pastes and slurries. The measurement is not affected by changing media, temperature changes, gas blankets or vapors.
Benefits:
Hardware and software developed according to IEC 61508 up to SIL3 (in homogeneous redundancy)
Reliable non-contact measurement even for changing product and process conditions
HistoROM data management concept for fast and easy commissioning, maintenance and diagnostics
Highest reliability even in the presence of obstructions in the vessel due to new Multi-Echo Tracking evaluation
Heartbeat Technology for a cost-effective and safe plant operation during the entire life cycle
Seamless integration into control or asset management systems and intuitive, menu-guided operation concept (on-site or via the control system)
World's easiest proof test concept for SIL and WHG saves time and cost
Field of Application:
Flush-mounted, completely PTFE-encapsulated horn antenna.
Process connections: Flush-mounted with cladded flange, process connections for hygiene requirements (Tri-Clamp, 11851)
Temperature: -196 to +200°C (-320,8 to +392°F)
Pressure: -1 to +25bar (-14.5 to +362psi)
Maximum measuring range: 40m (131ft), 60m (197ft) for enhanced dynamics
Accuracy: ±2mm
K-band: 26GHz
International explosion protection certificates, overfill prevention WHG, SIL, hygienic certificates, marine approval
► Các câu hỏi, thắc mắc, thông tin liên quan đến sản phẩm từ khâu mua sắm, lựa chọn, sử dụng, cài đặt hay thay thế, vui lòng liên hệ với INO team để được hỗ trợ và tư vấn kịp thời.
► Công ty Giải pháp và Công nghệ Đo lường INO, nhà cung cấp các thiết bị đo lường và tự động hóa công nghiệp
►Web: www.ino.com.vn  |  Mail: info@ino.com.vn
►Tel: (+84) 028 73000184  |  Hotline: 0917 496 446
►Website: http://www.ino.com.vn
Model tương tự: