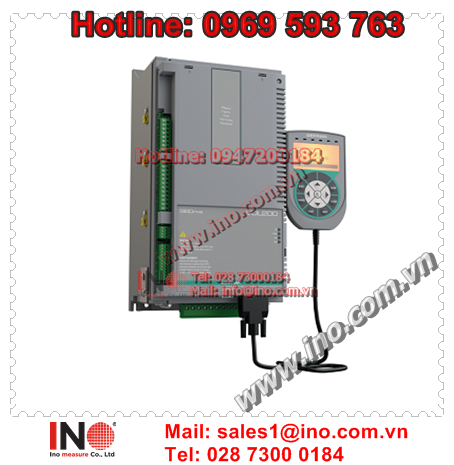 VDL200 Lift-field-oriented vector inverter for asynchronous motors

Description
Power Data
* Power supply: 3 x 230-400Vac, -15%+10%, 50Hz
* Motor power ratings from 4kW to 22kW
* Overload: 200% for 10 seconds
* Motor type: Asynchronous
EMC & Mark Compliances:
Integrated EMI Filter for EN 12015; EN 61800-3 2nd environment, category C2 and C3
CE Mark
Conforms to UNI EN 81-1:1998 + A3:2009, article 9.11.3
Main Features
Multispeed control
Short floor management
Emergency single-phase power supply for floor return with low energy optimization
Flexible ramp management
Integrated braking unit
Communication with control board via I/O
Management of TTL incremental digital encoders
Integrated EMI filter for versions (VDL200….-F)
Product Set-Up
The configuration set-up can be done by the following:
Optional alphanumeric keypad (KB-ADL)
PC with Graphical User Interface GF-eXpress
Easy and safe start-up
Thanks to the Wizard and the different access profiles (easy and expert) the configuration of the drive is fast and intuitive. The still autotuning is quickly performed, avoiding operators to decouple the car from the ropes, assuring a safe working environment and a faster commissioning.
Options
KB-ADL multilingual programming keypad with memory (up to 5 configurations)
Dedicated external EMC filters (for version without integrated EMC Filter).
External braking resistors
AC and DC input chokes
► Các câu hỏi, thắc mắc, thông tin liên quan đến sản phẩm từ khâu mua sắm, lựa chọn, sử
dụng, cài đặt hay thay thế, vui lòng liên hệ với INO team để được hỗ trợ và tư vấn kịp thời.
► Công ty Giải pháp và Công nghệ Đo lường INO, nhà cung cấp các thiết bị đo lường và tự động hóa công nghiệp
Web: www.ino.com.vn | Mail: info@ino.com.vn
Tel: (+84) 028 73000184 | Hotline: 0969 593 763
Website: http://www.ino.com.vn