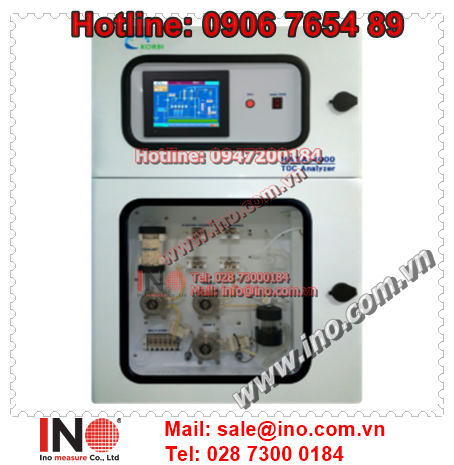 UV Persulphuric Acid Oxidation-type Online Total Organic Carbon (TOC) Analyzer, HATA-4000, is a measuring equipment that has automated the Continuous Automatic TOC Measuring Method of the Standard Water Pollutant Testing Method. HATA-4000 has minimized quantitative errors of sample analysis by using peristaltic metering pump and sample loop system, and it is measuring equipment that has been developed to accurately and easily measure TOC by improving the precision through the sensor measurement value correction function according to the gas flow rate. Through the application of UV persulphuric acid oxidation method, it has wide range of applications from rivers to wastewater.
Characteristics
HATA-4000
Distribution of Sample and Reagent Using Multi-channel Valves
Quantitative distribution of sample and reagent by using patented multi-channel valve system
High Accuracy
Use of high-performance micro-pulse control pump
Quantitative supply of sample through self-developed sample loop
Sensor value correction function according to gas flow rate
Self-diagnostics and Auto Calibration
Self-diagnostic function for errors during measurement
3-point manual calibration and automatic calibration function
Easy operation
Easy maintenance through simplification of flow channel
User friendly operating program
Economic
Reduction of gas usage compared to conventional products
Scalability (Option)
Capable of analyzing 3 sample lines
Capable of measurement frequency setting per sample line
Principle
After phosphate is inserted into the sample being analyzed, the inorganic carbon (TIC) of the sample is removed through purging by carrier gas, and then, a fixed quantity is measured by transferring the TIC-removed sample to the sample loop. After inserting the oxidizing agent (sodium persulfate) into the quantified sample, the organic material is oxidized by UV irradiation, and carbon dioxide that is generated here is measured by using the NDIR (Non-dispersive Infrared) detector. By calculating the quantity of carbon dioxide measured with the NDIR (Non-dispersive Infrared) detector, it is converted to TOC concentration.
Specification
Total Organic Carbon (TOC)
UV + Sodium persulfate oxidization method / NDIR detection method
0~30mg/L (Other ranges are available upon request)
10min (Adjustable)
0.05mg/L F.S.
±2% F.S.
±2% F.S.
±3% F.S.
±2% F.S.
Auto/manual calibration by standard solution
Sample/Reagent measurement method
Pulse control, Reagent loop injection system
Sample/Reagent distribution method
6-port distribution control method (Fixed quantity injection with multi-channel valve system)
Windows 7 (CPU process) or more
TCP/IP, DC 4~20mA, RS-232C
Normal operation, on calibration, error
Color TFT LCD 8″ (Touch screen)
AC 220V, 50/60Hz
Average 70W
3% or less
HDD 100G or more
USB terminal
Steel, IP55 / 500(W) x 335(D) x 750(H) mm
RH 95% or less
Application
Application Field
Water resource
National Online Water Quality Monitoring System
National Non-point Pollution Monitoring System
Drinking water
Potable water plant process management
Wastewater
STP/IWWTP, IWWTP effluent monitoring
STP/IWWTP process management
Industry
Industrial process management
References