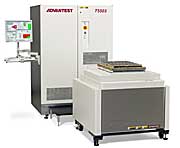 Lưu ý: Tham khảo ý kiến của nhân viên INO sẽ giúp bạn tiết kiệm được thời gian và chi phí khi cần mua sắm. ​​Với sự tư vấn của chúng tôi, bạn sẽ không gặp khó khăn khi tìm hiểu về đặc tính của sản phẩm cần mua.
Mass Production Test of New Generation High Speed DDR3-SDRAM Memory Devices
With broadband communications now widely used in households and business throughout the globe, continued expectations for higher quality, and larger capacity applications for video, audio, and other on-line content is on the rise. This demand is prompting the transition from DDR2-SDRAM to DDR3-SDRAM as the main memory for computers.
DDR3's increased performance, coupled with lower power requirements, promise to measurably enhance the capabilities of equipment such as PCs, notebooks and servers.
Accompanying the shift from DDR2-SDRAM to the faster DDR3-SDRAM, is the corresponding requirement from device manufactures for higher-speed and more accurate test capabilities, coupled with a renewed insistence on lowered test costs for mass production of these new devices. Advantest's T5503 is the memory test system that realizes lower costs and gives device manufacturers the upper hand in volume production
Up to 512 device parallel test. Maximum 3.2Gbps of test speed
For package test of the new-generation high-speed memory DDR3-SDRAM, the T5503 achieves parallel test of up to 512 devices (four times as many as its predecessor). It achieves the test speed of up to 3.2Gbps, the fastest in the industry for high volume production. These contribute to a major reduction in test costs for high volume production lines and makes it an ideal solution for DDR3-SDRAM, as well as for GDDR3 and GDDR4.
In addition, the T5503 provides an enriched multi-strobe function to measure the phase difference between the reference clock signal and data output signals at each cycle, — a significant benefit as the operating frequencies become higher. This function helps to measure the characteristics of memory devices at high speeds with a high level of accuracy.
Space savings and power savings of 50% or more per DUT (Device under Test)
By adopting the latest CMOS technology, a high degree of integration has been achieved in the semiconductor circuits mounted on the tester. While quadrupling parallel test capacity over previous systems, reductions of over 50% per DUT have been achieved in both floor space and power consumption. This enables an energy- and space-saving production line environment.
Using FutureSuite
®

, with multi-language support

Advantest's proprietary FutureSuite software with multi-language support enhances the system's operating system. In addition, the conventional ATL language, the MCI (Macro Control Interface) language allows programming in C.
| | |
| --- | --- |
| Target Devices | DDR3-SDRAM, GDDR3/4-SDRAM, etc. |
| Parallel Testing | Up to 512 devices per system |
| Test Speed | Up to 3.2Gbps |
Lưu ý: Nếu một thiết bị nào đó không được liệt kê ở đây, điều đó không có nghĩa rằng chúng tôi không hỗ trợ được bạn về thiết bị đó.
Hãy liên hệ với chúng tôi
 để biết danh sách đầy đủ về thiết bị mà chúng tôi có thể hỗ trợ và cung cấp.
INO: Bán, Báo giá, tư vấn mua sắm và cung cấp, tư vấn sản phẩm thay thế; tương đương, hướng dẫn sử dụng, giá…VNĐ, …USD info@ino.com.vn | Tel: (+84) 028 73000184 | Advantest-Memory Test Systems (Model:T5503).