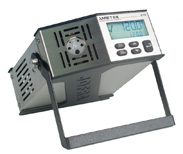 Lưu ý: Tham khảo ý kiến của nhân viên INO sẽ giúp bạn tiết kiệm được thời gian và chi phí khi cần mua sắm. ​​Với sự tư vấn của chúng tôi, bạn sẽ không gặp khó khăn khi tìm hiểu về đặc tính của sản phẩm cần mua.
The ETC series is designed for tests and verifications of temperature sensing devices in the field. This instrument is ideal when time is a critical factor and the highest accuracy is not a requirement. Reduced size and weight are important considerations as the unit may fit into a toolbox or instrument carrying case, and can be used for sensors that are difficult to access. The ETC calibrator heats up by up to 100°C (212°F) per minute and completes a full dual-point test in less than 10 minutes, including stability time.
One-key-one-function user interface provides immediate access to setting the temperature and the auto-step timesaving function. The stability indicator provides audible and visual prompts when the temperature is stable. This function also includes a 3-minute countdown before the stable condition. Stainless steel and rubber side panels make the instrument suitable for many years of faithful duty in an industrial environment.
One of the models – the ETC-400 R is designed for optimum speed in connection with calibration of infrared thermometers. The 36 mm (1.4 in) target provides the optimum size for reliable calibration of infrared thermometers in the process industry as it is designed for high accuracy and long-term stability while maintaining speed.
Models and temperature ranges
ETC-125A -10 to 125°C (14 to 257°F)
ETC-400A 28 to 400°C (82 to 752°F)
ETC-400R 28 to 400°C (82 to 752°F)

Features for the ETC
Complete series of temperature and IR calibrators

Multi-hole well design

RS232 and JOFRACAL calibration software

Multi information display

Auto stepping

Stability indicator

Count down timer (shows when unit is stable)

Programable maximum temperature

Fast simulation/training mode

Re-calibration from keyboard
Selection guide CTC Series

ETC 125 A

ETC 400 A

ETC 400 R
IR Calibrator

Temperature range @ ambient 23°C / 73°F

-10 to 125°C (14°F to 257°F)

28 to 400°C (82°F to 752°F)

28 to 400°C (82°F to 752°F)

Heating time

ambient to
100°C / 212°F
11 minutes

ambient to
maximum
5 minutes

ambient to maximum
5 minutes

Stability

0.05°C / 0.09°F

0.15°C / 0.27°F

0.3°C / 0.54°F

Accuracy

0.5°C / 0.9°F

0.5°C / 0.9°F

0.5°C / 0.9°F

Immersion depth

110 mm / 4.3 in.

105 mm / 4.1 in.

–

Holes for device-under-test

–

–

3 mm hole for external reference probe

ETC125A type 01

12.5 – 8 – 6 – 4 mm

–

–

ETC125A type 02

1/2 – 3/8 – 1/4 – 5/32 in.

–

–

ETC400A type 11

–

1/16 – 1/8 – 5/32 – 1/4 – 3/16 in.

–

ETC400A type 12

–

1/16 – 3/16 – 3/8 – 1/4 – 1/8 in.

–

ETC400A type 21

–

2 – 3 – 4 – 4 – 6 mm

–
Resource & Download
Lưu ý: Nếu một thiết bị nào đó không được liệt kê ở đây, điều đó không có nghĩa rằng chúng tôi không hỗ trợ được bạn về thiết bị đó.
Hãy liên hệ với chúng tôi
 để biết danh sách đầy đủ về thiết bị mà chúng tôi có thể hỗ trợ và cung cấp.
INO: Bán, Báo giá, tư vấn mua sắm và cung cấp, tư vấn sản phẩm thay thế; tương đương, hướng dẫn sử dụng, giá…VNĐ, …USD info@ino.com.vn | Tel: (+84) 028 73000184 | Ametek Calibration Instruments-Easy Temperature Calibrator ( Model:ETC Series).