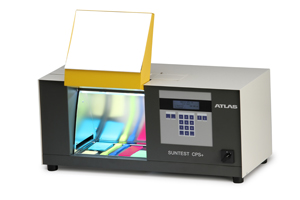 Lưu ý: Tham khảo ý kiến của nhân viên INO sẽ giúp bạn tiết kiệm được thời gian và chi phí khi cần mua sắm. ​​Với sự tư vấn của chúng tôi, bạn sẽ không gặp khó khăn khi tìm hiểu về đặc tính của sản phẩm cần mua.
The Atlas SUNTEST CPS+ is the small entry model. CPS+ is the most widely used benchtop xenon instrument in the world. Its compact design, easy handling and proven reliability make it the ideal quality control and R&D screening device for a variety of industries, such as plastics, packaging, pharmaceuticals, cosmetics, and many more.
Features
1x 1500 W air-cooled Xenon Lamps
560 cm2 exposure area
Direct Setting and Control of Irradiance in the wavelength range 300-800 nm / Lux; or 300-400 nm / 340 nm
Direct Setting and Control of Black Standard Temperature (BST)
Display of Chamber Air Temperature
Display of Test Values and Diagnostic Messages
Parameter Check
Two pre-programmed test methods
Storage for 6 user-defined test methods
Multilingual User Interface
Benchtop design 90 x 35 x 35 cm
Static, horizontal exposure area for flat or 3D specimen
Fan-controlled BST from 45-100 °C (without chiller unit SunCool)
Non-aging reflector and filter system, consistent of selectively reflecting mirrors and a coated quartz
Switch-off choices Radiant Exposure or Test Time
Base Filter as carrier for additional optical filters
Data output via serial interface RS232
Internally integrated Memory Card for Software Updates
Options
Light Monitor 300-400nm
Light Monitor 300-800nm
Humidity Sensor for measuring relative humidity during testing
Resource & Download
Lưu ý: Nếu một thiết bị nào đó không được liệt kê ở đây, điều đó không có nghĩa rằng chúng tôi không hỗ trợ được bạn về thiết bị đó.
Hãy liên hệ với chúng tôi
 để biết danh sách đầy đủ về thiết bị mà chúng tôi có thể hỗ trợ và cung cấp.
INO: Bán, Báo giá, tư vấn mua sắm và cung cấp, tư vấn sản phẩm thay thế; tương đương, hướng dẫn sử dụng, giá…VNĐ, …USD info@ino.com.vn | Tel: (+84) 028 73000184 | Atlas Material Testing Technology LLC-SUNTEST ( Model:CPS+).