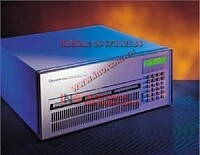 Lưu ý: Tham khảo ý kiến của nhân viên INO sẽ giúp bạn tiết kiệm được thời gian và chi phí khi cần mua sắm. ​​Với sự tư vấn của chúng tôi, bạn sẽ không gặp khó khăn khi tìm hiểu về đặc tính của sản phẩm cần mua.
Chroma high slew rate load model 6340 series provides total solution for VRM testing. The VRM is introduced to substitute the power supply when micro processor draws a burst of current from it. Chroma high slew rate load model 6340 series is capable to simulate from 0.12A/μs to 150A/μs transit loading. And its voltage, current measurement and monitoring functions makes it an ideal test instrument for the designers or the manufacturers of high speed power delivery devices.
The model 6340 family offers 2 models with power ranging 625 watts, current from 100A to 150A, and slew rate control from 0.12A/μs to 150A/μs at dynamic frequency up to 100kHz. All the loading and slew rate are programmable and can be controlled via front panel operation or RS-232/GPIB interface.
The test fixture can be fabricated upon customers' specifications. It can be configured for 5 or 10 VRMs. With the individual channel current measurement, it allows users checking the current sharing characteristics of the VRM.
Chroma model 6340 series loads can draw its rated current under very low voltage ( 0.8V typical ). Even under the highest specified slew rate, it still can work under only 1V input voltage. The low voltage operating capability pervade the future trend of lowing VRM output voltage.
Voltage and current monitoring outputs allow users observe the loading current and the output voltage of VRM via oscillatescope. In addition, the peak voltage measurement provides numerical reading of the over-shoot and under-shoot voltage of the UUT. Thus, users may specify the readings and perform GO/NG test.
Chroma model 6340 series loads build-in fan speed control to minimize the audio noise. The self-diagnosis routine and the full protections against OP, OC, OT and alarm indicating OV, reverse polarity to ensure the quality and reliability for even the most demanding engineering testing and ATS application.
Resource & Download
Lưu ý: Nếu một thiết bị nào đó không được liệt kê ở đây, điều đó không có nghĩa rằng chúng tôi không hỗ trợ được bạn về thiết bị đó.
Hãy liên hệ với chúng tôi
 để biết danh sách đầy đủ về thiết bị mà chúng tôi có thể hỗ trợ và cung cấp.
INO: Bán, Báo giá, tư vấn mua sắm và cung cấp, tư vấn sản phẩm thay thế; tương đương, hướng dẫn sử dụng, giá…VNĐ, …USD info@ino.com.vn | Tel: (+84) 028 73000184 | Chroma ATE_ High Slew Rate DC Electronic Load 625W (Model:6345/6346) .