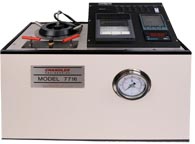 Lưu ý: Tham khảo ý kiến của nhân viên INO sẽ giúp bạn tiết kiệm được thời gian và chi phí khi cần mua sắm. ​​Với sự tư vấn của chúng tôi, bạn sẽ không gặp khó khăn khi tìm hiểu về đặc tính của sản phẩm cần mua.
A Critical Tool for Oil Well Cementing
The Model 7720 Bench-Top Consistometer enables mobile and remote cement testing laboratories with very limited space to perform the fundamentally necessary testing of cement thickening time. This instrument is capable of testing cement thickening behavior in accordance with most API Spec 10A testing schedules.

Engineering Excellence for Long-term Performance
Chandler Engineering's renowned manufacturing and field service experience is evident throughout the design of the Model 7720. This small, rugged instrument employs many of the design features of our full-sized consistometers in order to provide years of reliable service.

A constant speed slurry cup drive rotates the cup at the required 150 rpm thereby improving testing accuracy and consistency. The drive's reliability is maximized by use of a magnetic coupling system to connect the drive motor to the cup. The slurry cup is the same highly reliable design as is found in our other consistometers. The manual
pressure control system is both simple to use and reliable. An automatic pressure control system is optional.

Operational Simplicity
The Model 7720 Bench-Top Consistometer is simple to operate with all of the operational controls conveniently located on the front panel alongside visible indications of thickening time, pressure and temperature. The slurry cup is designed so that closure, heating and pressurization can be achieved quickly.

The programmable temperature controller accurately controls the rate of temperature rise of the slurry. Throughout the test, the built-in chart recorder tracks the temperature and cement consistency.

Operation can be further simplified by addition of the optional Model 5270 Data Acquisition and Control System which consists of interface electronics and custom software. The usefulness of the Model 7720 Consistometer is not limited to the testing of cement thickening time. It can also be used to condition slurries for other tests such as measuring free water content, testing for fluid loss or rheological properties and viscosity.
Features
• Small, Transportable Size for Field Locations,
Mobile Labs and Offshore Platforms
• Automatic Shutdown
• Built-In Chart Recorder
• Programmable Consistency Alarm
• Magnetic Drive Coupling
• Optional Pressure Controller
• Optional Data Acquisition System


Maximum Temperature: 400ºF / 204ºC
Maximum Pressure: 20,000 psi / 138 MPa
Slurry Cup Rotation Speed: 150 rpm
Thickening Time Range: 0 to 100 Bc (Bearden Units)
Consistency Resolution: 1 Bc
Pressure Control: Manual / Automatic pressure control is optional
Pressure Medium: White Mineral Oil
Data Acquisition: Digital chart recorder (temp. & consistency) Chandler Engineering Model 5270 Data Acquisition and Control System for a stand-alone computer (optional)
Operating Temperature: 32 to 120ºF / 0 to 50ºC
Compliance: API Spec 10A / ISO 10426-1

Utilities
Power Supply: 220 VAC +/- 15% 50/60Hz, 3kVA or 110 VAC +/- 10% 50/60Hz, 3kVA
(optional)
Cooling Water: 20-80 psi / 140 – 550 kPa
Compressed Air: 50-100 psi / 345 – 690 kPa

Physical Dimensions
Dimensions (W x D x H): 26 in. x 14 in. x 21.5 in. / 66 x 36 x 55 cm
Weight: 220 lb / 100 kg

Shipping Information
Dimensions: 39 in. x 19 in. x 29 in. / 91 x 54 x 74 cm
Weight: 300 lb / 136 kg
Resource & Download
Lưu ý: Nếu một thiết bị nào đó không được liệt kê ở đây, điều đó không có nghĩa rằng chúng tôi không hỗ trợ được bạn về thiết bị đó.
Hãy liên hệ với chúng tôi
 để biết danh sách đầy đủ về thiết bị mà chúng tôi có thể hỗ trợ và cung cấp.
INO: Bán, Báo giá, tư vấn mua sắm và cung cấp, tư vấn sản phẩm thay thế; tương đương, hướng dẫn sử dụng, giá…VNĐ, …USD info@ino.com.vn | Tel: (+84) 028 73000184 | Chandler Engineering-Benchtop Consistometer ̣̣̣(Model:7720).