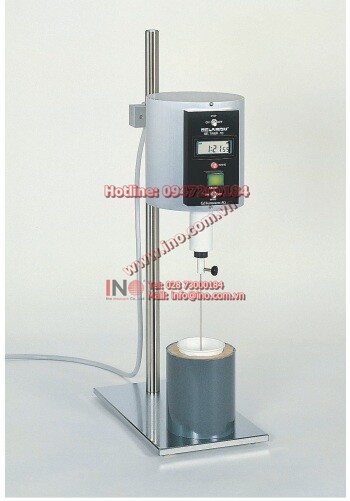 Lưu ý: Tham khảo ý kiến của nhân viên INO sẽ giúp bạn tiết kiệm được thời gian và chi phí khi cần mua sắm. ​​Với sự tư vấn của chúng tôi, bạn sẽ không gặp khó khăn khi tìm hiểu về đặc tính của sản phẩm cần mua.
The automatic GELNORM®-Gel Timer TC for the measurement of gelation time under standardised conditions is easy to use and the results show exceptionally good reproduceability with all reaction resins such as:
• unsat. Polyester resins
• Epoxid resins
• Polyurethane resins
• Acrylic resins
• Silicone resins etc.
The instrument incorporates a switch-off mechanism that responds to pressure: the gelation time limit is reached when the measuring stamper meets a defined reaction force in the reaction resin. As a result of this automatic switch-off system, the size of resin sample employed is not limited. The disposable stamper of stainless steel wire carries out a defined reciprocating movement as soon as the instrument is set in operation and, when the change in viscosity is reached, a built in timer is stopped and the gelation time can be read off.
The B-test is used to determine time of thermosetting resins DIN 16916th The hot plate (polished stainless steel) contains 1 or 4 wells for receiving samples. A resin sample is placed in the trough, the stopwatch is started. The sample is stirred, at the end of the test, when the resin is tough, jerky is by pulling up the Rührnadel (or glass rod) to determine whether the resin still stringy. If there are no more threads but the resin tears off the B point is reached, the stopwatch is stopped, the time and temperature is recorded.
Lưu ý: Nếu một thiết bị nào đó không được liệt kê ở đây, điều đó không có nghĩa rằng chúng tôi không hỗ trợ được bạn về thiết bị đó.
Hãy liên hệ với chúng tôi
 để biết danh sách đầy đủ về thiết bị mà chúng tôi có thể hỗ trợ và cung cấp.
INO: Bán, Báo giá, tư vấn mua sắm và cung cấp, tư vấn sản phẩm thay thế; tương đương, hướng dẫn sử dụng, giá…VNĐ, …USD info@ino.com.vn | Tel: (+84) 028 73000184 | Coesfeld-Geltimer GA II (Model:GT 16/20).