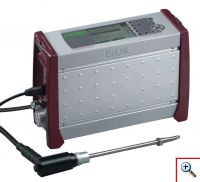 Lưu ý: Tham khảo ý kiến của nhân viên INO sẽ giúp bạn tiết kiệm được thời gian và chi phí khi cần mua sắm. ​​Với sự tư vấn của chúng tôi, bạn sẽ không gặp khó khăn khi tìm hiểu về đặc tính của sản phẩm cần mua.
The EiUK Rasi 900-1 is without any doubt the most complete portable combustion/emission analyser, available in the marketplace now days. It combines NDIR non dispersive infrared technology with
electrochemical measurement cells to ensure high level of accuracy, extreme flexibility, and the highest standard of performance.

EiUK Rasi 900-1 Portable Emission Analyser feature an integrated superior gas cooler (Peltier cooler) and automatic water removal system suitable for long term measurement and semi continuous emission monitoring.
The Modular Heated Head with replaceable heated wool filter and heated sampling line provide the best condition to avoid mould formation and condensate while sampling gases.

Simultaneous measurement of 02, CO, NO, NO2, SO2, H2S or H2 by using specially selected electrochemical cells and NDIR non dispersive infrared technology for direct measurement of CO2 % CO% or PPM and un-burnt hydrocarbon (CxHy) both in % or ppm level.
Rasi 900-1 Benefits and Features
Simultaneous measurement of 9 gases
Electrochemical sensors for O2, CO, NO, NO2 ,SO2, H2S and H2
NDIR Infrared technology for CO2%, CxHy and CO %
Integrated Gas Cooler
Automatic CO purging and fresh rinse
Automatic water condensate removal
Optional Heated Sampling Line and Heated Probe
Easy Data logging with testing programmes
Large back light display with zoom function
Real Time data transfer to a PC/Notebook
Task oriented menu with easy programme recall
Gas Flow velocity and mass calculation
Measure Pressure, Draft, differential pressure, Temperature
Calculate all the combustions parameters
Emission reporting with variable O2 reference
Large selection of sampling probes
Built-in rechargeable batteries
TÜV Approved 50379-1, 50379-2
Meet EPA CTM30-CTM34 method
Rasi 900-1 Applications
Steel furnaces
Cold fired power plant
Motors
Emission official reporting
Lime and cement production
Resource & Download
Lưu ý: Nếu một thiết bị nào đó không được liệt kê ở đây, điều đó không có nghĩa rằng chúng tôi không hỗ trợ được bạn về thiết bị đó.
Hãy liên hệ với chúng tôi
 để biết danh sách đầy đủ về thiết bị mà chúng tôi có thể hỗ trợ và cung cấp.
INO: Bán, Báo giá, tư vấn mua sắm và cung cấp, tư vấn sản phẩm thay thế; tương đương, hướng dẫn sử dụng, giá…VNĐ, …USD info@ino.com.vn | Tel: (+84) 028 73000184 | EiUK EUROTRON- Portable Emission Analyzer with up to 9 gases (Model:EiUK Rasi 900-1) .