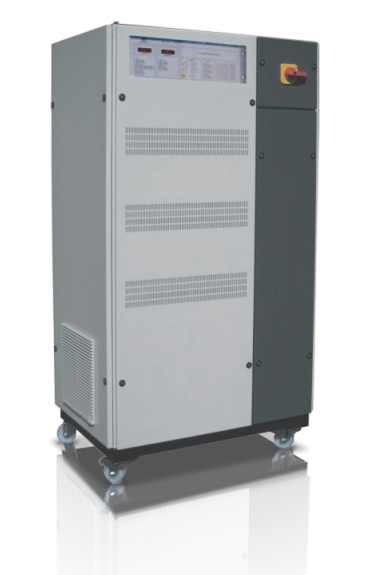 Lưu ý: Tham khảo ý kiến của nhân viên INO sẽ giúp bạn tiết kiệm được thời gian và chi phí khi cần mua sắm. ​​Với sự tư vấn của chúng tôi, bạn sẽ không gặp khó khăn khi tìm hiểu về đặc tính của sản phẩm cần mua.
Highlights
Frequency (fund.) 40Hz .. 80Hz
Very low distortion (THD)
Very high voltage stability
Output power 16kVA .. 90kVA (depending on model)
Output voltage max. 300V(p-n)
Inrush current capability
Remote control by the DPA 503N via RS232
Application
Sophisticated 3-Phase AC sources for harmonics & flicker applications
The ACS 503N-series are three-phase AC sources, specifically designed for harmonics and flicker testing. They meet the corresponding specifications as per IEC/EN 61000-3-2, IEC/EN 61000-3-3 and JIS C 61000-3-2 as well as per IEC/EN 61000-3-11 and IEC/EN 61000-3-12 for measuring DUTs having a nominal current of more than 16A per phase.
The ACS 503N-series provides the perfect sinusoidal and stable voltage signal specified to perform fully compliant harmonics and flicker analysis despite of the mains supply frequency and steadyness of the voltage.
Benefits
Sinusoidal Voltage for Harmonics and Flicker Measurements
As per standard requirements a pure AC voltage is needed for measurements of harmonics and flicker. The output voltage of the ACS 503N-series are guaranteed to be sinusoidal with a very low distortion (THD) of less than 0.1% regardless of the load. Furthermore the voltage is kept stable within 0.1% independent of the load, even if the load is variable.
No matter what the condition of the mains supply might be the ACS 503N-series fulfills the high standard for purity and stability of both the sinuoidal voltage signal and the frequency. With its power ranging from 15,000VA up to 90,000VA (depending on the model) they allow to measure DUTs with a nominal current from 16A up to 75A as per IEC/EN 61000-3-2, IEC/EN 61000-3-3 and JIS C 61000-3-2.
The ACS 503N-series AC voltage sources are electronically protected against overtemperature, overcurrent, overvoltage and undervoltage. Used with EM TEST DPA 503N harmonics and flicker analyzers the ACS 503N-series is fully remote controlled by the dpa.control software via RS232 interface.
Resource & Download
Lưu ý: Nếu một thiết bị nào đó không được liệt kê ở đây, điều đó không có nghĩa rằng chúng tôi không hỗ trợ được bạn về thiết bị đó.
Hãy liên hệ với chúng tôi
 để biết danh sách đầy đủ về thiết bị mà chúng tôi có thể hỗ trợ và cung cấp.
INO: Bán, Báo giá, tư vấn mua sắm và cung cấp, tư vấn sản phẩm thay thế; tương đương, hướng dẫn sử dụng, giá…VNĐ, …USD info@ino.com.vn | Tel: (+84) 028 73000184 | EMTEST-3-Phase AC Voltage Sources (Model: ACS 500N).