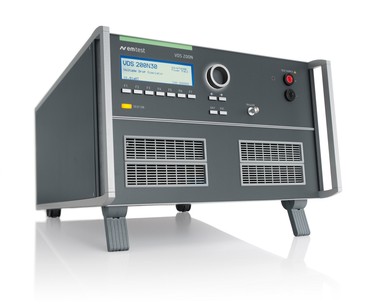 Lưu ý: Tham khảo ý kiến của nhân viên INO sẽ giúp bạn tiết kiệm được thời gian và chi phí khi cần mua sắm. ​​Với sự tư vấn của chúng tôi, bạn sẽ không gặp khó khăn khi tìm hiểu về đặc tính của sản phẩm cần mua.
Highlights
Voltage up to 60V
Current up to 200A (peak up to 1,000A)
Bipolar-amplifier models available
Low output impedance
Powerful DC voltage source
Pulses 4 and 2b (ISO 7637-2/ISO 16750-2)
Pre-programmed test routines to simulate various supply waveforms
Input for external signal generator to produce most complex waveforms
Software for Windows Vista & Windows 7
USB and GPIB interfaces
Application
VDS 200N – Battery supply simulator and DC voltage source
The VDS 200N series is used to simulate the various battery supply waveforms recommended by international standards and by car manufacturer requirements. Especially the manufacturer requirements are an important area covered by the VDS 200N series as there is a large variety of requirements. Secondly, the VDS 200N series serve as powerful DC voltage supplies for the DUT during the tests with automotive transients. The VDS 200N series covers all three supply voltage categories. Their current capability ranges up to 200A depending on the model and your application.
Benefits
Best to simulate battery supply waveforms
The VDS 200N is specifically designed to cope with almost every requirement of international and national as well as car manufacturer standards world-wide. Its integrated DC amplifier with a frequency range up to 50kHz allows to generate dips and drops, short interruptions and many kind of voltage variation representing various phenomena being measured on a wiring harness.
The VDS 200N30.1 and VDS 200N50.1 models are bipolar amplifiers able to absorb energy fed back from the DUT up to nominal current.
The VDS 200N offers the QuickStart with parameters being adjustable during test to evaluate the susceptibility level of a DUT. Pulse 4 and 2b as per ISO 7637-2:2004 and many more car manufacturer specific waveforms are pre-programmed. Together with an external signal generator (e.g. AutoWave) the VDS 200N can generate most complex waveforms.
Resource & Download
Lưu ý: Nếu một thiết bị nào đó không được liệt kê ở đây, điều đó không có nghĩa rằng chúng tôi không hỗ trợ được bạn về thiết bị đó.
Hãy liên hệ với chúng tôi
 để biết danh sách đầy đủ về thiết bị mà chúng tôi có thể hỗ trợ và cung cấp.
INO: Bán, Báo giá, tư vấn mua sắm và cung cấp, tư vấn sản phẩm thay thế; tương đương, hướng dẫn sử dụng, giá…VNĐ, …USD info@ino.com.vn | Tel: (+84) 028 73000184 | EMTEST-Voltage Drop Simulator – Battery supply simulation and DC voltage source (Model: VDS 500Nx).