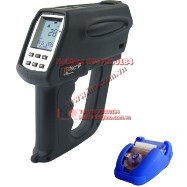 Lưu ý: Tham khảo ý kiến của nhân viên INO sẽ giúp bạn tiết kiệm được thời gian và chi phí khi cần mua sắm. ​​Với sự tư vấn của chúng tôi, bạn sẽ không gặp khó khăn khi tìm hiểu về đặc tính của sản phẩm cần mua.
IRtec P1000+ enable the monitoring of operating temperatures of mechanical and electrical plants or production equipment without removing the equipment from the service. Any temperature variation noticeable in whatever kind of system device should show critical overheating conditions which may cause malfunctioning to the device itself. They are also useful to measure product temperatures during manufacturing, to spot problems before they reduce quality or cause production downtime.

Optical System
The optical system consists of a high quality lens which brings the infrared energy to the detector; a filter and a field stop which defines the visual cone and the minimum target dimensions. The detector is placed at the focal point of the optical system. No focussing operations are required.
TTS – True Target Size
A dual laser pointer define at different distances the true target dimension. This unique and innovative system go over the limits of the old crossed laser pointer based system. TTS really guarantees the measuring of the true area diameter along all the optical path.
Adjustable Emissivity
IRtec P is equipped with an emissivity adjustment from 0.10 to 1.00 directly through keyboard. The instrument includes a typical emissivity materials reference table.
Model No.

Temperature Range

Spectral
Response

Target Spot
Size @ Distance

D/S
Optical Ratio

IRtec P1000+

–30 °C to +1200 °C
–20°F+ to +2192°F

8 to 14 μm

SF: 7.2mm @ 1m
0.28"@ 39.4"

140:1

LD: 72mm @ 10m
2.83"@ 394"
140:1
Not manufacture( ngừng sản xuất)- substitute product(sản phẩm thay thế)
Instrument EUROTRON

Equivalent

Old product

Reference

New product to be offered

Reference


IRtec P1000+

1194-SF

1194-LD

IRtec P IVT

IRtec P IVT
Resource & Download
Lưu ý: Nếu một thiết bị nào đó không được liệt kê ở đây, điều đó không có nghĩa rằng chúng tôi không hỗ trợ được bạn về thiết bị đó.
Hãy liên hệ với chúng tôi
 để biết danh sách đầy đủ về thiết bị mà chúng tôi có thể hỗ trợ và cung cấp.
INO: Bán, Báo giá, tư vấn mua sắm và cung cấp, tư vấn sản phẩm thay thế; tương đương, hướng dẫn sử dụng, giá…VNĐ, …USD info@ino.com.vn | Tel: (+84) 028 73000184 | EUROTRON- Documenting Process Thermometer (Model: IRtec P1000+ Mk2).