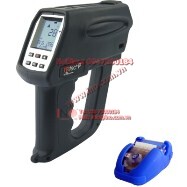 Lưu ý: Tham khảo ý kiến của nhân viên INO sẽ giúp bạn tiết kiệm được thời gian và chi phí khi cần mua sắm. ​​Với sự tư vấn của chúng tôi, bạn sẽ không gặp khó khăn khi tìm hiểu về đặc tính của sản phẩm cần mua.
Infrared thermometer also enable the monitoring of operating temperatures of mechanical and electrical plants or production equipment without removing the equipment from the service. Any temperature variation noticeable in whatever kind of system device should show critical overheating conditions which may cause malfunctioning to the device itself. They are also useful to measure product temperatures during manufacturing, to spot problems before they reduce quality or cause production downtime.
Comfortable, ergonomic design with pistol grip. Rugged with protective Rubber Holster.
Optical resolution: standard 75:1 + Close Focus.
Large LCD display with automatic white lamp backlit.
Easy to use. Just pull the trigger and immediately you will start to measure.
Emissivity can be adjusted with 50 preset values on most common material or automatically adjusted using the standard Thermocouple input.
Powered by Li-Ion rechargeable batteries with no memory effect.
The internal memory up to 500 data grouped by tag with real-time clock can be downloaded through USB interface using the standard Windows IRLogman Graphic software.
IR port for External thermal printer.
Each unit is delivered with certificate of calibration.
TTS – True Target Size
A dual laser pointer define at different distances the true target dimension. This unique and innovative system go over the limits of the old crossed laser pointer based system. TTS really guarantees the measuring of the true area diameter along all the optical path.
Model No.

Temperature Range

Spectral
Response

Target Spot Size
@ Distance

D/S Optical
Ratio

IRtec P800+

–30 °C to +1200 °C
–20°F to +2192°F

8 to 14 μm

SF: 16mm @ 1200mm
0.63 @ 47.2"

75:1
Resource & Download
Lưu ý: Nếu một thiết bị nào đó không được liệt kê ở đây, điều đó không có nghĩa rằng chúng tôi không hỗ trợ được bạn về thiết bị đó.
Hãy liên hệ với chúng tôi
 để biết danh sách đầy đủ về thiết bị mà chúng tôi có thể hỗ trợ và cung cấp.
INO: Bán, Báo giá, tư vấn mua sắm và cung cấp, tư vấn sản phẩm thay thế; tương đương, hướng dẫn sử dụng, giá…VNĐ, …USD info@ino.com.vn | Tel: (+84) 028 73000184 | EUROTRON- Dual Optics IR Thermometer (Model:IRtec P800+ Mk2).