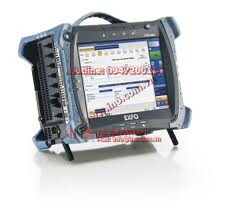 Lưu ý: Tham khảo ý kiến của nhân viên INO sẽ giúp bạn tiết kiệm được thời gian và chi phí khi cần mua sắm. ​​Với sự tư vấn của chúng tôi, bạn sẽ không gặp khó khăn khi tìm hiểu về đặc tính của sản phẩm cần mua.
* Characterization of all channel spacings, from 50 GHz DWDM to CWDM
* ROADM and 40 Gbit/s testing
* In-band OSNR ROADM testing
Key Features and Benefits
* In-band OSNR measurement for 40 Gbit/s and ROADM deployments with the PROS-OSNR breakthrough approach
* One-button operation for easy setup and automatic measurement
* Truly portable spectral characterization for DWDM network commissioning
* Over 90 dB dynamic range per scan
* Flexibility to analyze WDM, EDFA, drift, spectral transmittance and DFB laser
* High-power option, ideal for multiservice operators and CATV operators
Solution for Next-Generation Networks
Consumers and companies around the world require more bandwidth than ever before for data-hungry applications such as video on demand, voice over IP (VoIP), videoconferencing, etc. Accordingly, service providers need to deploy faster and more reliable networks, using novel technologies such as reconfigurable optical add-drop multiplexers (ROADM) or 40G networks.
Reducing downtime in any type of network calls for an accurate measurement of optical signal-to-noise ratio (OSNR), but ROADM and 40 Gbits/s networks present a new and unique challenge as the existing OSNR measurement methods yield incorrect results. EXFO's polarization-resolved optical spectrum OSNR (PROS-OSNR) method is the answer to this new challenge, providing reliable in-band OSNR measurement.
Choice without Compromise
The all-new FTB-5240S and FTB-5240BP Optical Spectrum Analyzer (OSA) series covers your DWDM applications and all channel spacings, from 50 GHz DWDM to CWDM. This is what we call "no-compromise performance", whatever your network specificities and testing requirements.
Nimble OSA Meets Supertech Patforms
The FTB-5240S OSA test module, housed in either the FTB-500 Platform or the FTB-200 Compact Platform, is purpose-built for fast and accurate dense wavelength-division multiplexing (DWDM) network commissioning and high-speed networking up to 40 Gbit/s.
Housing the FTB-5240S in the FTB-200 platform makes it the smallest, high-performance, portable solution for spectral characterization of next-generation networks on the market. When equipped with in-band OSNR measurement capabilities, this versatile OSA can also be combined with the FTB-8140 Transport Blazer test module to create a unique test solution for commissioning reconfigurable optical add/drop multiplexers (ROADMs), packet optical transport platforms (POT-Ps) and 40 Gbit/s systems.
Resource & Download
Lưu ý: Nếu một thiết bị nào đó không được liệt kê ở đây, điều đó không có nghĩa rằng chúng tôi không hỗ trợ được bạn về thiết bị đó.
Hãy liên hệ với chúng tôi
 để biết danh sách đầy đủ về thiết bị mà chúng tôi có thể hỗ trợ và cung cấp.
INO: Bán, Báo giá, tư vấn mua sắm và cung cấp, tư vấn sản phẩm thay thế; tương đương, hướng dẫn sử dụng, giá…VNĐ, …USD info@ino.com.vn | Tel: (+84) 028 73000184 | EXFO, Optical Spectrum Analyzers—FTB-5240S/BP.