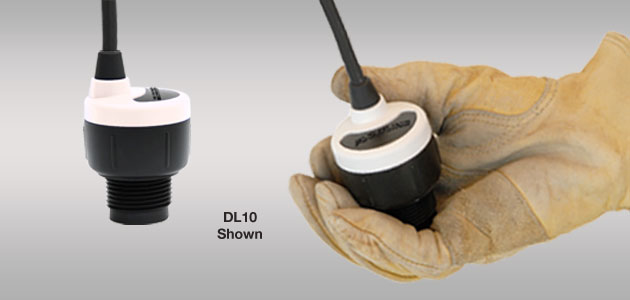 Lưu ý: Tham khảo ý kiến của nhân viên INO sẽ giúp bạn tiết kiệm được thời gian và chi phí khi cần mua sắm. ​​Với sự tư vấn của chúng tôi, bạn sẽ không gặp khó khăn khi tìm hiểu về đặc tính của sản phẩm cần mua.
Application:
The general purpose ultrasonic level transmitter provides continuous level measurement up to 49.2" (1.25m) with a 4-20 mA signal output, and is configured via our free WebCal software. This non-contact liquid level sensor is ideally suited for corrosive, sticky or dirty liquids, and is broadly selected for small day tank, skid, IBC, sump and process tank level applications.
Features:
Continuous non-contact level measurement up to 49.2" (1.25m)
4-20 mA output for longer signal distances up to 1000' (300m)
Configuration is fast and easy via WebCal software and USB adapter
Narrow 2" beam width and short 2" dead band optimized for small tanks
PVDF transducer and 6P polycarbonate enclosure for corrosive liquids
Automatic temperature compensation for accurate measurement
Specifications:
Range: 49.2" (1.25m)
Accuracy: 0.125" (3mm)
Resolution: 0.019" (0.5mm)
Dead band: 2" (5cm)
Beam width: 2" (5cm)
Configuration: WebCal® PC Windows® USB 2.0 USB 2.0
Memory: Non-volatile
Supply voltage: 24 VDC (loop)
Consumption: 0.5W
Loop resist.: 400Ω max
Signal output: 4-20 mA, two-wire
Signal invert: 4-20 mA or 20-4 mA
Signal fail-safe: 4 mA, 20 mA, 21 mA,
22 mA or hold last
Process temp.: F: 20° to 140°
C: -7° to 60°
Temp. comp.: Automatic
Ambient temp.: F: -31° to 140°
C: -35° to 60°
Pressure: MWP = 30 PSI (2 bar)
Enclosure rating: Type 6P, encapsulated,
corrosion resistant & submersible
Encl. material: Polycarbonate
Strain relief mat.: Santoprene
Trans. material: PVDF
Cable jacket mat.: Polyurethane
Cable type: 4-conductor, shielded
Cable length: 48" (1.2m)
Process mount: 1" NPT (1" G)
Mount gasket: Viton®
Classification: General purpose
Compliance: CE, RoHS
Approvals: cFMus
Resource & Download
Lưu ý: Nếu một thiết bị nào đó không được liệt kê ở đây, điều đó không có nghĩa rằng chúng tôi không hỗ trợ được bạn về thiết bị đó.
Hãy liên hệ với chúng tôi
 để biết danh sách đầy đủ về thiết bị mà chúng tôi có thể hỗ trợ và cung cấp.
INO: Bán, Báo giá, tư vấn mua sắm và cung cấp, tư vấn sản phẩm thay thế; tương đương, hướng dẫn sử dụng, giá…VNĐ, …USD info@ino.com.vn | Tel: (+84) 028 73000184 | Flowline-EchoPod® Multi-Function Ultrasonic Level Transmitter ( Model: DL10 ).