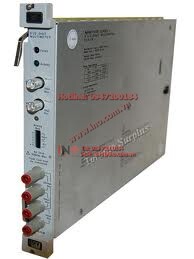 Lưu ý: Tham khảo ý kiến của nhân viên INO sẽ giúp bạn tiết kiệm được thời gian và chi phí khi cần mua sắm. ​​Với sự tư vấn của chúng tôi, bạn sẽ không gặp khó khăn khi tìm hiểu về đặc tính của sản phẩm cần mua.
The Agilent E1411B 5.5-Digit Multimeter is a C-size, 1-slot, register-based VXI module. It is identical in electrical design to the E1326B, differing only in size. You can use the integrating A/D to make 5.5-digit, low-noise measurements, or switch to the sampling A/D to make 14-bit readings at rates up to 13 kHz.
When combined with any Agilent VXI relay or FET multiplexer, you can create a multichannel scanning multimeter. For example, by sending just one SCPI command to the Agilent E1406A, you can program the multimeter and the channels of your multiplexers all at one time. The E1411B provides flexible triggering with built-in timer pacer, also.
Product functions for this DMM include Vdc/ac, 2- and 4-wire Ω, offset-compensated Ω, thermocouples, thermistors, and RTDs. This autoranging DMM is especially well suited for data acquisition and computer-aided test applications.
1-Slot, C-size, register based

DCV, ACV, 2- & 4-wire Ω, temperature

5.5-digit low-noise integrating A/D

13 kHz high-speed sampling A/D

Balanced differential isolated inputs

Software calibration
Resource & Download
Lưu ý: Nếu một thiết bị nào đó không được liệt kê ở đây, điều đó không có nghĩa rằng chúng tôi không hỗ trợ được bạn về thiết bị đó.
Hãy liên hệ với chúng tôi
 để biết danh sách đầy đủ về thiết bị mà chúng tôi có thể hỗ trợ và cung cấp.
INO: Bán, Báo giá, tư vấn mua sắm và cung cấp, tư vấn sản phẩm thay thế; tương đương, hướng dẫn sử dụng, giá…VNĐ, …USD info@ino.com.vn | Tel: (+84) 028 73000184 | Hewlett-Packard / Agilent Technologies, Digit Multimeter, C-Size (E1411B).