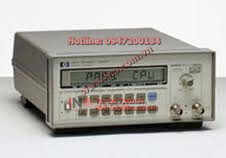 Lưu ý: Tham khảo ý kiến của nhân viên INO sẽ giúp bạn tiết kiệm được thời gian và chi phí khi cần mua sắm. ​​Với sự tư vấn của chúng tôi, bạn sẽ không gặp khó khăn khi tìm hiểu về đặc tính của sản phẩm cần mua.
The Agilent 5384A Frequency Counter utilizes interpolar-enhanced reciprocal counting to provide outstanding performance at a low cost. Frequency coverage allows measurements from 10 Hz to 225 MHz, with resolution of 9 digits per second. The 5384A incorporates a programmable alphanumeric display, accessible remotely via either HP-IB (standard) or HP-IL (optional). The liquid crystal display (LCD) reduces component count, is easy to read (indoors or out), and improves counter reliability and serviceability.
The half-rack width 5384A instrument is portable, rackable, and stackable for use in the field, at a workbench, or as part of an ATE system. Options include a four-hour-capacity battery pack, and a high-stability oven oscillator for higher accuracy.
High input sensitivity extends applications

Extensive input conditioning improves accuracy

Variable display digits improve readability

External dc operation extends portability

Proven reliability

For complete details, click on the Data Sheet link.

High Input Sensitivity

At least 15 mV rms sensitivity reduces the need for preamps and improves low-level signal measurement accuracy.

Extensive Input Conditioning

A low pass filter, automatic or manual attenuator and trigger level control features provide versatile signal-to-noise conditioning for optimum accuracy.

Variable Display Digits

View only readable digits from stable signals by controlling the number of display digits. Use as few as 3 or as many as 11 digits.

External dc Operation

Wide range (9-15V) external dc input power allows use of sources such as 12V automobile power to keep the timebase warm, or charge the battery option while in transit to remote sites.
Resource & Download
Lưu ý: Nếu một thiết bị nào đó không được liệt kê ở đây, điều đó không có nghĩa rằng chúng tôi không hỗ trợ được bạn về thiết bị đó.
Hãy liên hệ với chúng tôi
 để biết danh sách đầy đủ về thiết bị mà chúng tôi có thể hỗ trợ và cung cấp.
INO: Bán, Báo giá, tư vấn mua sắm và cung cấp, tư vấn sản phẩm thay thế; tương đương, hướng dẫn sử dụng, giá…VNĐ, …USD info@ino.com.vn | Tel: (+84) 028 73000184 | Hewlett-Packard / Agilent Technologies, Frequency Counter (5384A).