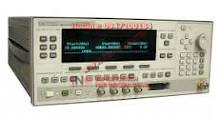 Lưu ý: Tham khảo ý kiến của nhân viên INO sẽ giúp bạn tiết kiệm được thời gian và chi phí khi cần mua sắm. ​​Với sự tư vấn của chúng tôi, bạn sẽ không gặp khó khăn khi tìm hiểu về đặc tính của sản phẩm cần mua.
The Agilent 83623A synthesized sweeper is the standard of excellence for applications requiring the high performance and accuracy of a synthesized source and the speed and versatility of a sweep oscillator. Synthesized broadband frequency coverage and precise 1 Hz frequency resolution (Opt 008) are generated by indirect synthesis, enabling the Agilent 83623A to achieve low single-sideband phase noise performance. It delivers harmonic performance of 25 dB below the carrier from 2.0 to 20 GHz.
Scan modulation to simulate antenna scan patterns

Accurate fixed and swept frequency offset for two-tone measurement

User flatness correction for leveling at remote points in the test system

General purpose source for use in component test, receiver test and for frequency conversion

Sweep Modes: Step, List, Ramp

Maximum Power: +17 dBm

Power Sweep Range: -20 dBm to maximum power

Phase Noise (20 GHz at 10 KHz): -76 dBc

Max FM Deviation (locked): +/- 8 MHz
Resource & Download
Lưu ý: Nếu một thiết bị nào đó không được liệt kê ở đây, điều đó không có nghĩa rằng chúng tôi không hỗ trợ được bạn về thiết bị đó.
Hãy liên hệ với chúng tôi
 để biết danh sách đầy đủ về thiết bị mà chúng tôi có thể hỗ trợ và cung cấp.
INO: Bán, Báo giá, tư vấn mua sắm và cung cấp, tư vấn sản phẩm thay thế; tương đương, hướng dẫn sử dụng, giá…VNĐ, …USD info@ino.com.vn | Tel: (+84) 028 73000184 | Hewlett-Packard / Agilent Technologies, Synthesized Sweeper, 10 MHz to 20 GHz, High Power (83623A).