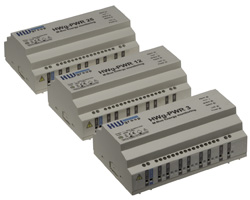 Lưu ý: Tham khảo ý kiến của nhân viên INO sẽ giúp bạn tiết kiệm được thời gian và chi phí khi cần mua sắm. ​​Với sự tư vấn của chúng tôi, bạn sẽ không gặp khó khăn khi tìm hiểu về đặc tính của sản phẩm cần mua.
HWg-PWR is a smart Ethernet gateway for remote energy metering and consumption monitoring. To measure the consumption of water, electricity and other energies, external meters with the M-Bus interface are used. Up to 3 / 12 / 25 M-Bus meters can be connected to the HWg-PWR unit. Individual meters (electricity meter, water meter, gas meter, heat meter etc.) are produced by third parties and connected via their M-Bus interface. HWg-PWR is a smart gateway that monitors energy consumption and warns about abnormal values The unit provides a Web interface, charts, SNMP and Modbus/TCP output, data logging, e-mail and SMS alerts, and much more.
HWg-PWR 3/12/25 monitors energy consumption using standard external energy meters produced by well-known manufacturers. It is possible to mix electricity meters, water meters, gas meters etc. by different manufacturers. Depending on version, HWg-PWR supports 3, 12 or 25 external meters with the M-Bus interface (EN 13757).

HWg-PWR 3 / 12 / 25 – Energy monitoring gateway:

Sends an alarm in the event of failure or value out of a specified range (E-mail, SNMP Trap, SMS)
Logs selected values (displays graphs over the WEB interface)
8x Digital Inputs for detecting single-phase 110/230VAC outage
Converts the consumption (e.g. from [kWh] to [€]) without a computer or additional software
Periodically sends an energy consumption report for the given period as an e-mail attachment
Actively uploads data to a "portal" using the HWg-Push protocol

Advantages of using third-party M-Bus meters

Vast range of meters with the EN 13757 (M-Bus) interface to choose from.
It is easy to use special-purpose meters (non-standard form factor or measured range, e.g. indirect electricity meters rated up to 1000 A).
M-Bus meters frequently provide extended information (total consumption and immediate values, voltage at different phases, power factor, etc…).
Values from certified meters can be used for billing purposes.




HWg-PWR 3 HWg-PWR 12 HWg-PWR 25
Features
Inputs
Power
Web
M2M outputs
M-Bus meters
M-Bus variables
Digital inputs
Modbus/TCP
SNMP
SMS GW
E-mail
E-mail report
HWg-Push
HWg-PWR 3
3
Max 100
8x 110/230VAC
110/230VAC
HWg-PWR 12
12
Max 100
8x 110/230VAC
110/230VAC
HWg-PWR 25
25
Max 100
8x 110/230VAC
110/230VAC
*
HWg-PWR


Old model – no longer in production

3
Max 30
3x Dry Contact
230V
–
–
–
M-Bus or S0 pulse counter
S0 is a legacy system of counting pulses that correspond to a certain amount of energy.
The M-Bus interface is the current standard for energy metering. Unlike pulse counting (S0), it works with absolute values (that can be used for customer billing). In addition, M-Bus provides more values, such as the immediate current and voltage, cos φ, and so on.
An S0 to M-Bus converter can be used to connect S0 devices:
M-Bus meter manufacturers
Caution: We recommend to always check and test what values does the manufacturer guarantee at the M-Bus interface.
Gas meters

Water meters

Heat meters

Electricity meters

Other accessories

ABB
–
–
–

TESTED

–
AllMess
–
–
–
Aquametro
–
–
–
Bmeters
–
–
–
–
Carlo Gavazzi
–
–
–
–
DEIF
–
–
–

TESTED

–
DIEHL
–
–

TESTED

–
–
EIZ – SCHRACK
–
–
–

TESTED

–
Elster
–
–
–
–
Elvaco
–
–
–

TESTED

EMH
–
–
–
–
EMU
–
–
–
–
Günther Schell
–
–
–
–

TESTED

GMC-I
–
–
–
–
GWF

TESTED

–
IME
–
–
–
–
Inepro / DMMetering
–
–
–
–
ISKRAEMECO
–
–
–
–
ista
–

TESTED

–
–
Itron
–
Janitza electronics
–
–
–

Resource & Download

Lưu ý: Nếu một thiết bị nào đó không được liệt kê ở đây, điều đó không có nghĩa rằng chúng tôi không hỗ trợ được bạn về thiết bị đó.

Hãy liên hệ với chúng tôi

 để biết danh sách đầy đủ về thiết bị mà chúng tôi có thể hỗ trợ và cung cấp.

INO: Bán, Báo giá, tư vấn mua sắm và cung cấp, tư vấn sản phẩm thay thế; tương đương, hướng dẫn sử dụng, giá…VNĐ, …USD info@ino.com.vn | Tel: (+84) 028 73000184 | HWg-Smart M-Bus to Ethernet gateway (Model: HWg-PWR 3/12/25).