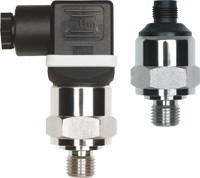 Lưu ý: Tham khảo ý kiến của nhân viên INO sẽ giúp bạn tiết kiệm được thời gian và chi phí khi cần mua sắm. ​​Với sự tư vấn của chúng tôi, bạn sẽ không gặp khó khăn khi tìm hiểu về đặc tính của sản phẩm cần mua.
Features
High chemical resistance
Measuring system resistant to high mechanical loads
Measuring ranges: 0 to 100 bar up to 0 to 600 bar relative pressure
Thin-film technology
Welded measuring system
Compact design: as of 57 mm in length
High bursting strength
Customer benefits
Economical
Type 401005 is the high-pressure model in the JUMO MIDAS pressure transmitter range, with sensor technology that has been proven thousands of times over. An almost fully automated production sequence (digital compensation and calibration of the sensor module) reduces the production time and manufacturing costs.

Process reliability
The high quality of every pressure transmitter is ensured by the full final inspection within the fully automatic measuring and calibration facility.

Versatile
This measuring instrument distinguishes itself through its versatility. Various output signals, different process connections, materials for process connections, and sealing material are available. The standardized features are specified in the data sheet; further features can be implemented upon request.
Applications
Refrigeration technology
Compressors
Commercial vehicles
Hydraulics
Resource & Download
Lưu ý: Nếu một thiết bị nào đó không được liệt kê ở đây, điều đó không có nghĩa rằng chúng tôi không hỗ trợ được bạn về thiết bị đó.
Hãy liên hệ với chúng tôi
 để biết danh sách đầy đủ về thiết bị mà chúng tôi có thể hỗ trợ và cung cấp.
INO: Bán, Báo giá, tư vấn mua sắm và cung cấp, tư vấn sản phẩm thay thế; tương đương, hướng dẫn sử dụng, giá…VNĐ, …USD info@ino.com.vn | Tel: (+84) 028 73000184 | Jumo-OEM Pressure Transmitter for High Pressure (Model:JUMO MIDAS HP-401005).