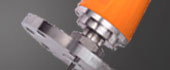 Lưu ý: Tham khảo ý kiến của nhân viên INO sẽ giúp bạn tiết kiệm được thời gian và chi phí khi cần mua sắm. ​​Với sự tư vấn của chúng tôi, bạn sẽ không gặp khó khăn khi tìm hiểu về đặc tính của sản phẩm cần mua.
RADAR TYPE LEVEL INDICATOR VF Series
The radar type level meter irradiates microwaves via the probe and makes stable detection without being affected by dust particles, vapors, and obstacles in the tank.
Can be used for powders, granules, liquids, slurries, etc.
Makes stable detection without being affected by the moisture content, particle diameter, and electrical properties of the measured substance.
As microwaves are irradiated via the probe (wire or rod), the meter is not easily affected by vapors (for liquids) and dust particles (for granules).
Adjustment after installation is not needed.
| | |
| --- | --- |
| When an electromagnetic pulse is applied on the sensor probe, the pulse proceeds at high speed toward the measurement surface via the wire, and a part of the pulse is reflected on the measurement surface and returned to the sensor. The distance to the measured substance is calculated from this propagation time. | |
Power Supply
(Two Wire)
Non Explosion-proof
DC24V(18~35V)
EExia
DC24V(18~28V)
Max Measuring Range
Single Rod
3m
Single Cable
24m
Output
Output
(Max Load Resistance750Ω)
DC4~20mA HART
(Max Load Resistance750Ω)
Error Output
DC22mA
Accuracy
Liquids
±15mm
Powders
±20mm
Repeatability
1mm  
Conditions
Ambient Temperature
-30~+55℃(EExia:-20~+48℃)
Flange Temperature
-30~90℃ option 200℃
(EExia:-20~+48℃)
Process Temperature
-50~+600℃
Withstanding Pressure
Max.0.4MPa
Enclosure Rating
IP-66
Minimum Dielectric
Over 2.3

In addition to the above, various specifications are available.
For more information, see respective catalogs or contact us by phone or mail.
Lưu ý: Nếu một thiết bị nào đó không được liệt kê ở đây, điều đó không có nghĩa rằng chúng tôi không hỗ trợ được bạn về thiết bị đó.
Hãy liên hệ với chúng tôi
 để biết danh sách đầy đủ về thiết bị mà chúng tôi có thể hỗ trợ và cung cấp.
INO: Bán, Báo giá, tư vấn mua sắm và cung cấp, tư vấn sản phẩm thay thế; tương đương, hướng dẫn sử dụng, giá…VNĐ, …USD info@ino.com.vn | Tel: (+84) 028 73000184 | KANSAI-RADAR TYPE LEVEL INDICATOR (Model:VF Series).