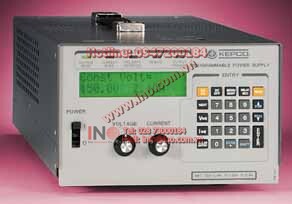 Lưu ý: Tham khảo ý kiến của nhân viên INO sẽ giúp bạn tiết kiệm được thời gian và chi phí khi cần mua sắm. ​​Với sự tư vấn của chúng tôi, bạn sẽ không gặp khó khăn khi tìm hiểu về đặc tính của sản phẩm cần mua.
Kepco's MBT-G series (denoted by suffix "G") are bench-style instrumentation power supplies that offer a choice of control methods including direct entry keypad, slew up/down keys, rotary controls and three communications ports: IEEE 488.2, RS 232 and Kepco's single address, multiple instrument long range serial bus.
MBT-G have a built-in SBC (Single Board Computer) that provides talk-listen capability using IEEE 488.2 and RS 232. MBT-G units support SCPI and CIIL. A single MBT-G can be used to control other power supplies via the two-wire serial bus. The master MBT-G can be controlled from a central GPIB host or may be self- controlled from its own keyboard. Using the serial bus, a master MBT-G can address and control up to 27 units, including itself. The remote units may be other MBT power supplies, or Kepco's MAT power supplies (360W, 720W and 1080W sizes), or Kepco's MST, 200W units or the BOP models with the TMA serial card. In all cases, full talk-listen communication and control is maintained and can be relayed to a GPIB host through the SBC.
A 24-key front panel keypad is the primary manual control input. Many keys are dual- purpose, providing direct entry of voltage, current and protection values. In their alternate mode, the keys provide a variety of functions such as "GPIB address", "Store" and "Status."
Conventional knobs provide a comfortably familiar feel for the adjustment of voltage or current. The knobs drive optical encoders to provide input to the control system. A pair of up and down slew controls are an alternate way to control the output incrementally.
MBT-G employ a menu scheme to guide users through the various functions. In program mode, MBT-G prompts you to enter values for all functions and parameters. Values may be stored in non-volatile memory and recalled at will. A series of values can be programmed to execute in a repetitive fashion.
All models are equipped with a long range (300m) serial data interface to support multiple instruments on a single GPIB address. (See the MBT Block Diagram)
Resource & Download
Lưu ý: Nếu một thiết bị nào đó không được liệt kê ở đây, điều đó không có nghĩa rằng chúng tôi không hỗ trợ được bạn về thiết bị đó.
Hãy liên hệ với chúng tôi
 để biết danh sách đầy đủ về thiết bị mà chúng tôi có thể hỗ trợ và cung cấp.
INO: Bán, Báo giá, tư vấn mua sắm và cung cấp, tư vấn sản phẩm thay thế; tương đương, hướng dẫn sử dụng, giá…VNĐ, …USD info@ino.com.vn | Tel: (+84) 028 73000184 | Kepco Inc-Power Supply (Model MBT 150-2.4MG).