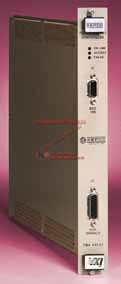 Lưu ý: Tham khảo ý kiến của nhân viên INO sẽ giúp bạn tiết kiệm được thời gian và chi phí khi cần mua sắm. ​​Với sự tư vấn của chúng tôi, bạn sẽ không gặp khó khăn khi tìm hiểu về đặc tính của sản phẩm cần mua.
Kepco is a member of the VXI Plug and Play Alliance
The Kepco model TMA VXI-27 is a Power Module Controller which plugs into a VXI computer chassis and allows the use of a VXI computer to control and monitor the outputs of up to 27 Kepco power modules (such as MAT's, MBT's, MST's and BOP's) equipped for communication via the IEEE 1118 two-wire serial bus.
The various models of the IEEE 1118-compatible power supplies provide the user with a choice of 54 power supplies that can work with the TMA VXI-27 controller. The IEEE 1118 two-wire serial bus, also referred to as the Control Bus, allows the TMA VXI-27 to communicate with the 27 power modules up to a maximum distance of 1000 feet (300 meters).
The TMA VXI-27 is a Message Based VXI servant interface with Programmable Interrupter capabilities for Event generation, conforming to Specification VXI-1, REV. 1.4. As a Message Based Device it implements all Word Serial Commands required for an I4 class (i.e., IEEE 488 compatible) Instrument. It is a Single Width C sized card.
With a plug&play software driver, the user runs the TMA VXI-27 Controller in a Windows environment where a graphical interface provides easy setup of the Controller. The plug&play driver then provides a graphical representation of the power supplies controlled by the TMA VXI-27, and allows the user to set output voltage and current parameters by manipulating virtual controls on a representation of the front panel, instead of having to issue specific commands in the programming languages understood by the Kepco Power Supplies (either SCPI or CIIL).
Resource & Download
Lưu ý: Nếu một thiết bị nào đó không được liệt kê ở đây, điều đó không có nghĩa rằng chúng tôi không hỗ trợ được bạn về thiết bị đó.
Hãy liên hệ với chúng tôi
 để biết danh sách đầy đủ về thiết bị mà chúng tôi có thể hỗ trợ và cung cấp.
INO: Bán, Báo giá, tư vấn mua sắm và cung cấp, tư vấn sản phẩm thay thế; tương đương, hướng dẫn sử dụng, giá…VNĐ, …USD info@ino.com.vn | Tel: (+84) 028 73000184 | Kepco Inc- Power Supply Controller (Model TMA VXI-27).