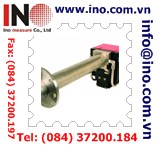 Lưu ý: Tham khảo ý kiến của nhân viên INO sẽ giúp bạn tiết kiệm được thời gian và chi phí khi cần mua sắm. ​​Với sự tư vấn của chúng tôi, bạn sẽ không gặp khó khăn khi tìm hiểu về đặc tính của sản phẩm cần mua.
Thermal Imaging for Continuous Process Monitoring and Quality Control
When thermal imaging inside refractory lined furnaces or boilers is required the plant operator is required to cut large openings in the refractory to enable viewing of the critical area. This can cause significant wasted energy from heat loss through the opening and can be difficult to keep the opening free from debris.
With the introduction of the FTI-Eb BoreScope it is possible to use the proven technology of the LAND FTI-E 391 thermal imager to accurately profile the temperature of the entire furnace with only a small opening in the wall.
Key Benefits
Wide angle imaging inside the vessel to maximise coverage of the products
High performance water cooling system with low water flow requirements even in the highest temperature furnaces
Integrated air purge to keep the optical system clear of debris, while consuming minimal instrument air
Optional Auto-retraction mechanism to protect the imager should the water cooling or air purge supply fail
The FTI-E Thermal Imaging camera is an integral part of the LAND intelligent imaging solution, and is complemented by an extensive range of dedicated system peripherals.
LAND Image Processing Software
On-line system providing flexible, application specific thermal analysis
FTI-E Control Processors
Optional industrial processor providing local process control, configuration and process visualisation
Industrial Housing
Designed to protect the imager in even the harshest of operating environments and ensures reliable continuous operation
Temperatures
Low Temperature (C):
600
High Temperature (C):
1600
Low Temperature (F):
1112
High Temperature (F):
2912
Technical Details
FTI-E Thermal Imager

Measurement range

600 to 1600 °C / 1112 to 2912 °F

Spectral response

nominal 3.9 µm

Frame rate

30 frames per second

Image pixels

384 x 288

Detector type

Uncooled microbolometer

System measurement accuracy

±1%

System temperature measurement drift with ambient temperature

0.2 ° indicated / 1 ° ambient (°C or °F)

(Imager & Control Processor or PC, ° indicated / ° ambient)

System thermal resolution (rms value)

< 0.3 °C / < 0.54 °F

Ambient temperature range

5 to 50 °C / 40 to 120 °F

Sealing

IP 65 / NEMA 4

Vibration

0.5mm, 10 to 60 Hz; 3g, 60 to 300 Hz

CE Certification

EN 61326: 1999 B

Borescope

Field of View

30° or 60°

Probe Length

588.5 mm / 23"

Probe Diameter

88.9 mm / 3.5"

Flange

DN 100 PN 16

Other flange options available on request

Dimensions (overall) h x w x l

258 x 269 x 905 mm / 10" x 11" x 36"

Weight

32.5 kg / 72 lb

Sealing

IP 67 / NEMA 4
Application
Glass furnaces
Reheat Furnaces
Tube furnaces
Boilers
Incinerators
Lưu ý: Nếu một thiết bị nào đó không được liệt kê ở đây, điều đó không có nghĩa rằng chúng tôi không hỗ trợ được bạn về thiết bị đó.
Hãy liên hệ với chúng tôi
 để biết danh sách đầy đủ về thiết bị mà chúng tôi có thể hỗ trợ và cung cấp.
INO: Bán, Báo giá, tư vấn mua sắm và cung cấp, tư vấn sản phẩm thay thế; tương đương, hướng dẫn sử dụng, giá…VNĐ, …USD info@ino.com.vn | Tel: (+84) 028 73000184 | Land – FTI-Eb Furnace Monitoring.